Return to Mazarron

Minka of Southampton - Cruising Log
Edmund Wigan
Sun 16 Oct 2011 08:40
I have spent the last few days renewing aquaintances in Mazarron. Tina and Tony are here on their beautiful Jeaneau 54 Tioram 4 which has been to Greece and back since I saw them here last year.
The most exciting thing has been seeing Manuel's new boat an American Mason 33. We sailed up to Cartagena and accompanied them back to Mazarron on her maiden voyage.
This is the first time Manuel had taken her out. The first trip was just a few hundred metres to the fuel pontoon. Then we set off to Mazarron motoring along the coast.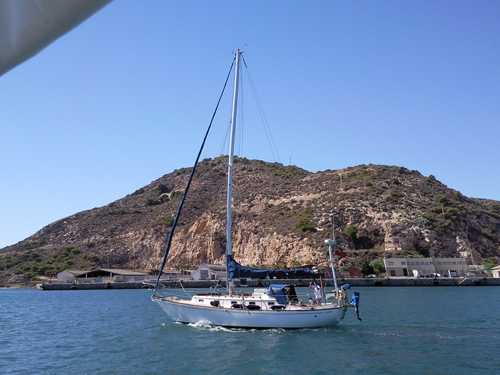 Florence May has beautiful lines. She was built in 1986 and the quality of her interior is quite exceptional. She doesn't really have a bent mast and the buildings in the background are not really falling over.........this is a problem with my mobile phone camera.
The Spanish rescue services were standing by just in case we had a problem!
It was a beautiful day. The downside was a lack of wind so we couldn't sail.
I plan to leave Mazarron today and gently cruise up to Denia before crossing to the Balearics and spending a few weeks there. I will probably then return to Cartagena and leave Minka there whilst I return to the UK for Christmas.
---