Levkas to Nisos Milos via Pera Picardi and Kyparissia.

Minka of Southampton - Cruising Log
Edmund Wigan
Sat 27 Oct 2012 08:48
Minka and I have been a bit busy for the last few days and have covered nearly 300nm since leaving Levkas three days ago. Firstly we sailed down through the canal and anchored in a little bay on the east coast of Ithaca called Pera Picardi. There is a small island which provides protection from everything except south easterlies.
We anchored just off a small beach in about 10mts depth which was as close to the shore as I was comfortable with. You are advised to keep away from the island as there are giant rats which will swim to your boat and eat it.
And watched the sun go down
As you can see there was very little wind. Later on at about 2300 the wind got up and went south east which made sleeping difficult so we set off again and sailed all the way to Kyparissia on the Greek mainland. This is a good harbour with lots of room.
The town itself is pretty awful with lots of unfinished buildings.
I did find one older building on the waterfront.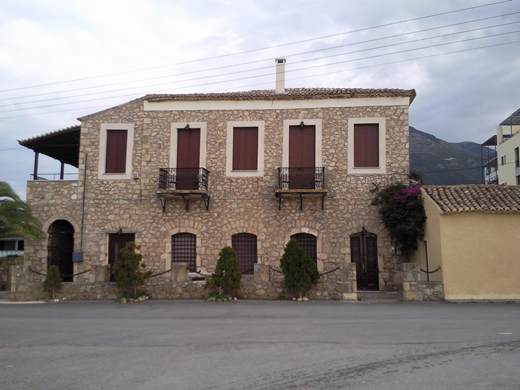 I caught up on my sleep overnight and we set off south again
On the bottom left hand corner of the Greek mainland we passed Methoni which looked interesting. There are three capes that hang off the bottom of the Greek mainland with Methoni being the first where we turned south east. By the time we got to the middle cape it was dark and we had for the first time a lot of commercial traffic coming round the corner from the other direction. Minka was close inshore about 300 mts off when they all decided to come round having seen no ships for 24 hours. There were six cargo ships and a cruise liner. They were all taking a an inshore route and overtaking each other as they came round. The radio traffic was constant as they manouvered for position with as little as 300mts between them. So far I had escaped involvement except for altering course once to allow a cargo ship to come between Minka and the cliffs, we passed within 150mts of each other. The final ship was the cruise liner who was doing 18kts and rapidly catching up with all the cargo ships doing 9 to 14kts. He decided to follow the previous cargo ship and go inshore of me when only 2 nm off. This was because he was boxed in by the cargo ships and didn't want to go round them on the outside. I altered course off shore again at his request which put me within 0.2 nm of a cargo ship which was a tad close and the cruise liner came through clearing me by 0.2nm and the shore by a bit less. I took a very poor photo as he went past.
So after that excitement we carried on and eventually reached the Aegean and an island called Nisos Milos before it got dark again.
This island has some interesting geology
The strata lines are vertical. The harbour is around the rock and is a huge bay caused by a volcano exploding or as a neighbouring skipper suggest a dinosaur farting competition.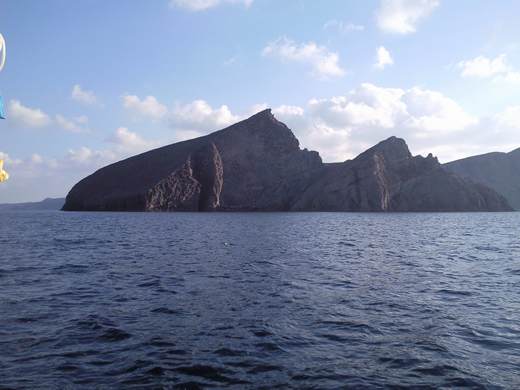 These rocks are just around the corner from the previous picture and are completely different.
And on the other side of the bay are some soft white rocks which have caves carved in them. The white ribbon on the hill is a small town or village. The harbour itself is well sheltered. We rafted up to a catamaran as there was a crosswind and I was too tired to bother with dropping the anchor and backing in.
Minka is more less at the centre of the picture. We are now going to do some island hopping in the Cyclades before moving on to the Dodecanese.
---