Alicante - Volvo Ocean Race

Minka of Southampton - Cruising Log
Edmund Wigan
Mon 24 Oct 2011 07:22
I had a walk around after making my last blog entry to see what the fuss is about this Volvo Ocean Race. I followed the sounds of what I thought was a steel band but turned out to be ordinary drums.
They were making a terrific noise for such a small group. To reach them I had to enter this huge compound set aside for the race and sponsors. At the entrance they have set up this psychadelic yacht. I am not sure I have spelt psychsadelic correctly as it is not a word I have seen since the early 70s.
Unfortunately I didn't get the base in the photo bit it is set in concrete so I presume it is now going to be a permanent feature, Perhaps I should get Minka painted like that.............I don't think so, but it is great fun. I then had a walk along the dockside past loads of very permanent looking looking structures which will clearly move on to the next race venue.
This Irish boat seemed a bit lonely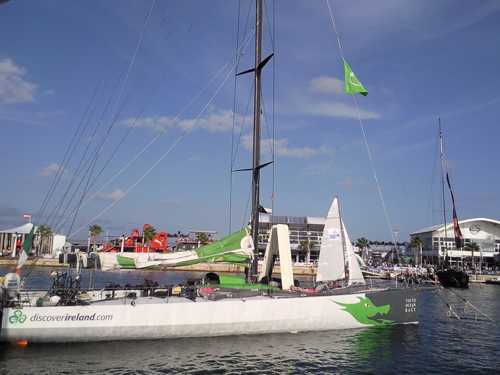 There seem to be two types of race boat here. This type which is like the one at the entrance and they have twin dagger boards which you can see sticking up in front of the mast and this type.
which you can see backing in here to join a group of the same type.
I suspect the first type might be a previous race's one design but that's a guess.
There are a lots of things here to entertain people from this race simulator which people were queuing up to get in to see what it feels like at sea in a race boat.
I suspect it is a modified airoplane simulator. And then these things which I have seen before and always remind me of The Prisoner.
The children were having a great time. I saw some adults in the queue and was sorely tempted to have a go.
The Race organisers seemed very keen on the environment and are flying huge promotional stands all around the world to demonstrate this. There was quite a lot of sculpture made from flotsam and jetsam including the headless horse.
However, on the other side of the stand I came across this
whick looks like it might fit.
I am going to find out more about the Race tomorrow as I found a huge viewing platform which has a terrific view over the bay and it would be great to see these boats sailing.
On my way down from the viewing platform I saw this mini fountain on a roundabout.
I walked back along the other side of the marina and came across this ship which Francis Drake must have missed.
The figure head looks like it's a very bad lion and sticking its tongue out.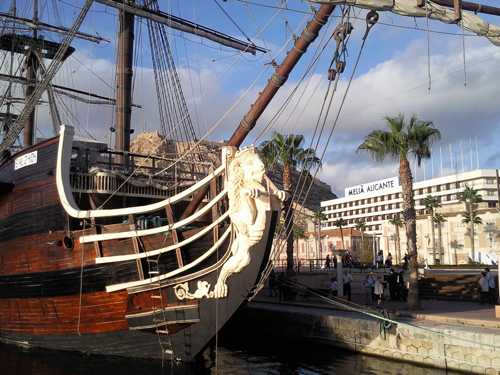 Sorry not a good picture.
My conclusion is that the Volvo Ocean Race is a terrificly expensive and well organised event but I would be more impressed if Minka's 17 year old Volvo diesel engine didn't leak oil.
---