Archangelsk 16th July 2011

Minka of Southampton - Cruising Log
Edmund Wigan
Sun 17 Jul 2011 13:04
Position N64 31.7 E040 32.4 Archangelsk 16th and 17th July 2011
The rally organisers have appointed two local young people as liaison officers to help us during our time here.
They are Dmitri and Christina. Dmitri is training to be a Ship's Engineer and Christina to be an interpreter.
We had a look around the town. All towns have a statue of Lenin and a Lenin Square. Unfortunately I did not have my camera with me so the only photo I have is this one taken from the dock.
There was a presentation of prizes in afternoon. The organisers made sure each yacht won a prize. Most musical yacht was the Czech boat as they had a guitar and piano accordion on board, nicest crew prize to the Germans and so on. Williwaw won the prize for the fastest yacht largely because we have motored nearly everywhere whilst others have sailed and she has a large engine for her displacement.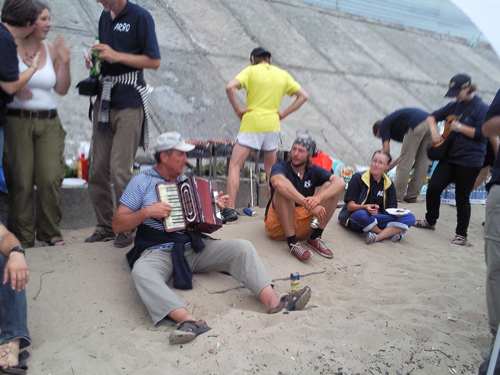 In the evening there was a barbecue on the dirtiest beach I have ever seen. After a bit of work it was reasonably well cleaned up but it was not possible to get rid of all the bits of broken vodka bottle. However, that didn not stop us having a very good night.
---