Capitano Marina to..........................Aeolian Islands

Minka of Southampton - Cruising Log
Edmund Wigan
Fri 6 Jul 2012 15:09
Minka decided she didn't want to go to the north coast of Sicily so we came to the Aeolian Islands instead. These are a bit north west of the straits of Messina which is the gap between Sicily and mainland Italy. Not much to say about the trip except there were some very light winds mainly from the south east so Minka just made the best course she could and 58 hours later I saw this big rock wearing a hat.
This is the most westward of the islands called Alicudi. During the night I had passed close to another small island called Ustica which is about 60nm further west. I thought about stopping there but I noticed in my antique guide to Italian Waters that the largest Island Lipari has a shop selling gas so decided to carry on there as I needed some. We anchored on the west side of the island just before it got dark.
There was loads of room although there are a lot of yachts in the islands.
From Sardinia to this anchorage we logged 272nm which took 58 hours, an average of 4.7 kts which is pretty good as during the first day we were only making 2 kts for quite a few hours. The only event on the trip was a thunderstorm which seemed to aim straight at us and didn't miss.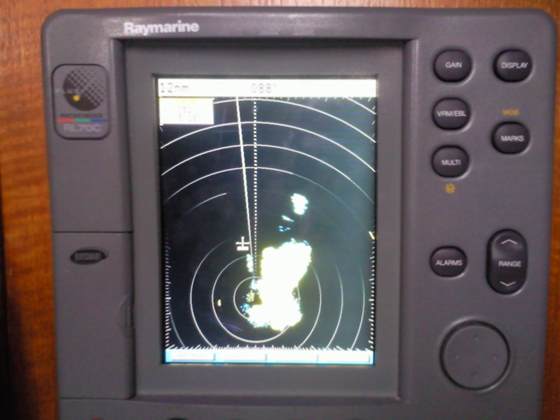 That's what a thunderstorm looks like on radar.
Having caught up on my sleep we went to the east side of the island to fill up with diesel. I was going to anchor again afterwards but as I was passing the marina pontoons I was called over and managed to negotiate a reasonable rate for one night. This has been very handy as I have managed to get the gas and top up our stores.
Some friends have just been in contact. They have just left the Messina Straits for Zakinthos. They have recommended an anchorage so we will sail through the straits and anchor there tomorrow night.
Other pictures taken as we sailed around the island
This is Isola Vulcano and if you look in the centre above the anchorage you can see the volcano is having a bit of a smoke.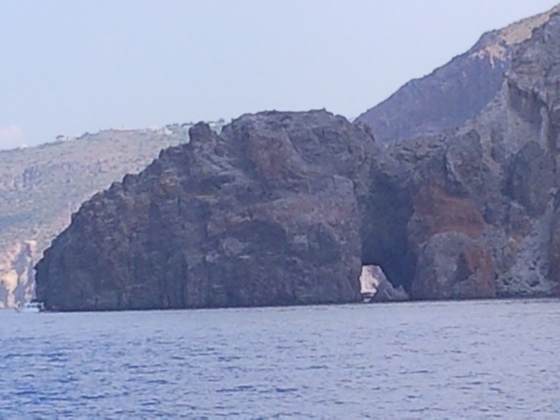 A cave or tunnel right through the rock.
The passage between the islands.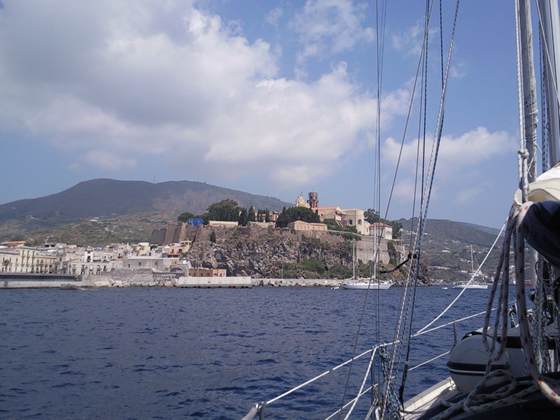 Coming into Lipari.
That's it. Hopefully the next blog will be from Kephalonia (about 280nm) unless Minka decides otherwise.
---