Panormitis to Simi Harbour

Minka of Southampton - Cruising Log
Edmund Wigan
Mon 15 Apr 2013 05:24
The weather deteriorated on this journey which fortunately was only 16nm.
A very black cloud bringing rain and wind. The wind became very confused and soon disappeared altogether so we motored between two islands…….
…..turned right and were soon in sight of Simi Harbour
Colin helmed us in very neatly and we tied up alongside. I then spent a few hours walking backwards and forwards between the Police office and the Port Authority offices trying to sort out our paperwork. This gave me a chance to take a few pictures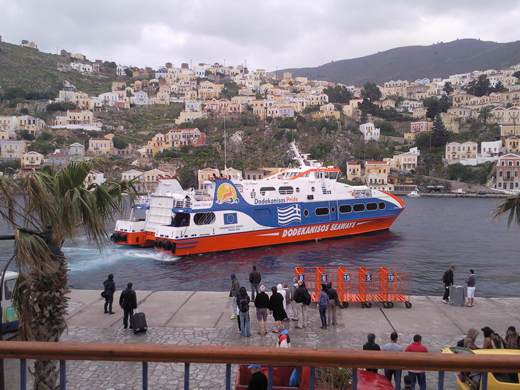 The ferry coming in….
Colin sheltering from the rain in a Police sentry box……
The harbour from the sea. Despite the grey skies and the rain this seems to be a charming place to visit.
We were running short on water so were looking forward to filling up our tanks on the quayside. The taps had padlocks on them so we asked everyone and their dog for the key ………….one of the harbour authority chaps said he would have to contact the Mayor…..in the end I got out the bolt croppers and was just fastening them around the padlock when it fell to pieces so that was easy.
The outcome of my visits to the various offices collecting rubber stamp impressions on meaningless bits of paper was that they could not charge the normal 5 euros for parking Minka because two of the stamps had been made more than 3 hours apart…………………..
---