Nisos Andros 16.5.2013

Minka of Southampton - Cruising Log
Edmund Wigan
Thu 16 May 2013 16:51
Position 37:53.059N 24:44.145E
Gavrion on Nisos Andros is only about 30nm north east of Tinos. The islands nearly join where we saw this little fishing boat.
Nisos Tinos is to the right, the gap is about 1nm. The hillsides are peppered with little houses.
We arrived in Gavrion at about 1400 after sailing the last ten miles on the cruising chute. This sail has proved very useful and has been a great investment.
Gavrion town from the dock. We hadn't been moored long when this ferry came in…..
…..and parked next to us.
The ferry pilots are very skilled and the parking was done very smoothly creating only a little wash.
I went for a walk around the village and the bay
There is nothing special about it but it is a very pleasant place to be. My friend seemed to agree with me…..
…I must go back with a carrot. There was then a succession of large ferries…..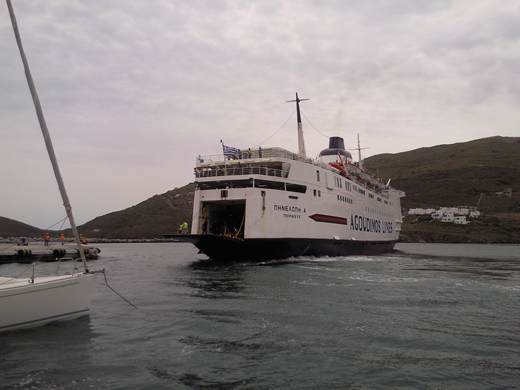 ….but after this one I got bored with taking their pictures.
Our next stop will be Nisos Skiros (50nm north) but we may leave that for a day or so.
---