Vilamoura to Vila Real De Santo Antonio

Minka of Southampton - Cruising Log
Edmund Wigan
Tue 4 May 2010 19:05
Very glad to leave Vilamoura this morning.............not my sort of place. But I could not leave until I had returned my swipe card as the deposit is 30 euro. To do this I had to take Minka to the reception pontoon and tie her up whilst waiting for the office to open. A real pain as it then took ten minutes to turn on the computers da da da.............
We sailed all the way with true winds up to 25kts which was great. A beam reach to Cabo de Santa Maria so she was doing 7 to 7.5kts. The little navy ship came and had another look but this time much closer.
After we altered course at the Cabo, which is the entrance for Faro, we had a small wind shift which meant we were quite tight on it. I ended up with two reefs in the main and about four rolls in the genoa and she was still putting her toe rail in.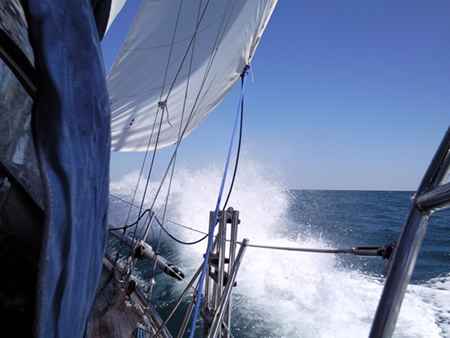 We averaged just under 7kts for the whole trip of 45nm. The entrance to the river (Guadiana the boundary between Spain and Portugal) has a sandbar across it so I was glad it was a rising tide when the depth sounder got down to 1.9 mts. Not really a problem as the bottom is nice soft sand. The river seems to have a few boatyards on the Portugese side.
The town is unspoilt by commercial developments and there are some quaint little streets. The square is quite imposing particularly the paving.
There is a Rival 34 in the marina belonging to a couple from Doncaster so I went and had a quick chat before going shopping.
Tomorrow I am aiming to get to Rota which is about 65nm so an early start to get there in daylight. Rota is just north of Cadiz across the bay. You will probably have gathered I have scrounged a Wifi connection and sorted my technical problems..................well at least until I press the wrong buttons again.
---