Kas Marina September 2013

Minka of Southampton - Cruising Log
Edmund Wigan
Thu 14 Nov 2013 08:54
The reason for a lack of blogging is because of acute indolence and a lack of enthusiasm for trying to work out how to download photos from my new Iphone. This is something of an experiment so almost exciting. I am writing this a month or so after the events………………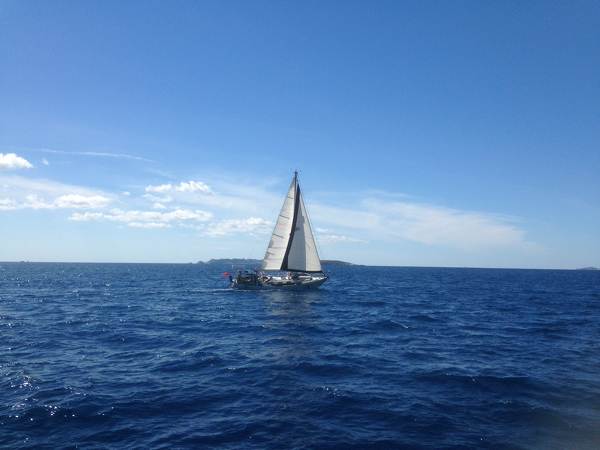 Whilst in Kas this time I have done a few jobs on Minka. When we went out to test them it coincided with my friends John and Jennifer testing their repaired propeller driveshaft so I took a few pictures of them sailing. Their yacht is a Rival 34 called Blue Talisman.
The jobs on Minka included replacing the exhaust elbow and heat exchanger casting.
The engine looks a real mess with all the parts off ready for replacement…….I must get around to repainting it soon.. The new casting came with a core bung missing. A local engineer made one for me…..it is the little round shiny thing in the sea of green metal at the bottom of the picture.
The engine went together well and I have since put over 40 hours on it so it looks like I got all the bits in the right places. Whilst the heat exchanger was off it allowed better access to the starter motor so I took the opportunity to clean up all the electric terminals which has solved the long term problem of intermittent starting. The other main job I did was to replace the hydraulic ram for the autopilot. This was a standing on your head job so I was very relieved when it all worked. Setting up a new B&G autopilot takes a lot of doing but again all is now working well.
The social life in Kas Marina is quite good with live music in one of the bars every Sunday night. This chap does everything from opera to Elvis.
He even manages to get people dancing.
The chap with the long hair and stripey shirt has a beautiful Nicholson 35 which he has totally rebuilt and made a great job of it.
I am in Famagusta as I write and will now go and find a wifi connection to see if this works. If it does I will try another post soon.
---