Archangel - continued 16 - 20th July 2011

Minka of Southampton - Cruising Log
Edmund Wigan
Wed 27 Jul 2011 07:21
The organisers arranged an excursion for us to visit another collection of old wooden buildings. We went by luxury coach
Which looked even better on the inside.
Hearing the whine and grind from the differential made me feel quite nostalgic about our old school buses.
The museum was interesting but there are only so many ways you can arrange a pile of logs.
Yes, it's another church.....but for a change
a couple of windmills. A machine...........
to counterbalance a bucket when drawing water from a well. and best of all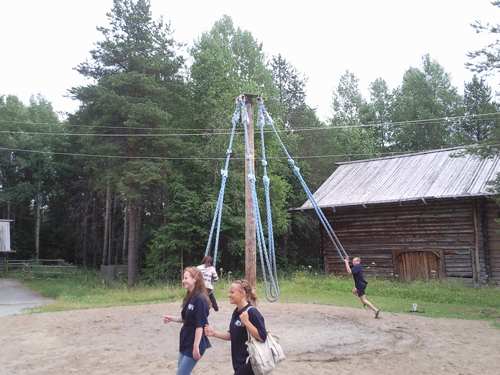 A combination swing and roundabout. Astrid and I had a go which was good fun.
When we got back to Archangelsk the rally organisers had set up a sail past as a photo opportunity for the press. All the boats got involved but only three managed to saill in anything like a convoy.
It gave me a chance to get a photo of Irena under sail and another of Seeadler
Two of the local liaison officers came along for the ride.
They were frozen so borrowed jackets from us.
---