Gibraltar to Ceuta, Morocco

Minka of Southampton - Cruising Log
Edmund Wigan
Sun 23 May 2010 17:01
There has been quite a gap since my last blog as I have been in Gibraltar doing the sailing course. On balance the course was useful but it would have been better if the school boat hadn't fallen to bits around us. This was compensated for by some excellent instruction and the other three students who were great fun and are now good friends. So thanks Martin, Dan, Colin and Richard. Probably the most memorable thing was the instruction from Dan on the meaning of life in relation to camels.
The three wise men or founder members of the Last of the Summer Wine Sailing Association
This was taken at high altitude on the terrace of the Rock Hotel Gibraltar. From the left, Richard, Colin and Dan.
In my last blog I mentioned my brother William and his trip. I now know he is going to Phuket and he is nearly there despite several problems with his boat.
As you can see it looks as if he only has about 200 nm to go.
Minka and I left Gibraltar this morning in great weather for a very short trip (12nm) to Ceuta in Morocco. I am now on the African continent. Lots of dodging commercial vessels on the way but they were all very good and altered course according to the rules. Some got a little close
It was not long before Morocco was in sight
Ceuta is to the right. The headland is Pta Almina.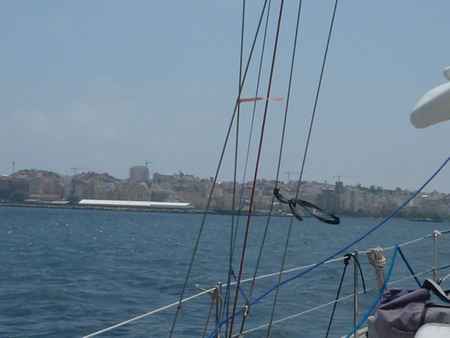 Harbour entrance on the nose. Having got into the harbour I went into the marina and called them up on the radio for a berth. The chap on the radio didn't speak English so I raised my voice in the traditional manner and then I noticed this chap jumping up and down on the dock in time to the outbursts on the radio. So he pointed for me to follow him. We went right into the marina and he insisted that I went into this berth but I was set up to go alongside on the port side.
Yup, I backed her in without hitting anything much to my astonishment so I had one of Dan's beers to celebrate.
Ceuta looks like a reasonable place. It has a beach and lots of shops.
I will probably go around the corner (Pta Almina) and have a look at Smir tomorrow. This is only about 15nm so another easy day.
---