Nisos Nisiros

Minka of Southampton - Cruising Log
Edmund Wigan
Mon 29 Apr 2013 19:18
Nisiros is about 4 miles square with a few small off lying islands the largest is Nisos Yiali which seems to be an open cast phosphate mine. Firstly though the harbour in Piali …..yes Minka is in there. We had some fun backing in with a crosswind…..I decided to try to overpower the wind by using the bowthruster……the wind won.
We hired three motor bikes and set off to tour the island. There are lots of little chapels
Phil showing the scale of this one which was open
But only about 2mts square inside. By this time we were getting the hang of the little twist and go bikes
Hell's Granny (aka Sally) with Phil. The bikes were 80cc…..Phil and I had a drag race which took rather a long time. I saw an indicated 75kmh on mine.
The views were great. This shows Mandraki the ferry terminal in the distance.
The Ferry had just arrived when we got there. Phil and I have been looking at suitable vehicles for Dave now he needs stabilisers on his Honda Firebird (his feet don't touch the ground). This looked promising
…..but wasn't tatty enough. Later we saw this deluxe model with extras
We tried to find the owner to buy it as it came complete with a basket of broken tools and other old tat……just right for Dave.
Back to Mandraki
There were some nice wide streets. Sally had a minor problem later as she tried to follow me and Phil ride up a wheelchair ramp……no damage done.
We stopped for a drink…..Phil waiting for his change
We ran out of road, well path really, at this little square where local children were playing with water pistols.
After we left Mandraki we found a castle which apparently was built in 4BC. The stone was in very good condition and they were massive lumps. I am in this picture to show the scale
We had a climb about
There were a lot of wild flowers on top of the wall
This wall was being repaired under warranty
Down below you could see where it had been underpinned.
More wild flowers
The bike rental people said that there wasn't a road we could use to carry on to the volcano crater from Mandraki and we would have to return to the port and start again from there……..
……..but they were wrong. The view below shows the considerable terracing.
We passed this small homestead
Another little chapel ……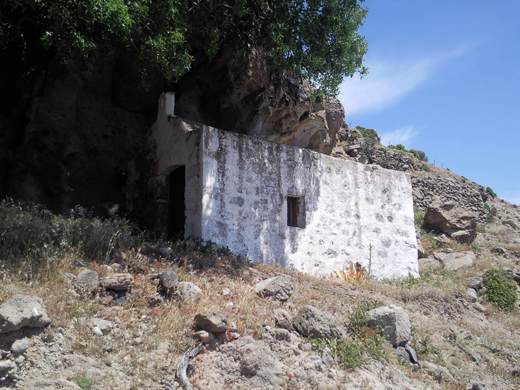 ……with its own cave for a local hermit.
The cave was a bit bigger than the chapel. Eventually our track led to the crater………
……….which was pretty impressive. We gradually got closer, passing another chapel….
Which was actually a hermitage. The track continued around the crater…..
The black line on the right is the mains water supply……a four inch iron pipe which just hangs across the landscape.
Phil posing in front of the crater. It smelt like the population had eaten nothing but egg sandwiches for a very long time. The next picture shows the floor of the crater which has the sulphurous vents in it.
We were then back on tarmac roads and went to see a little town (Nikia) on top of the mountain
This is the entrance to the church from the square which is actually round.
There were some dilapidated buildings but also some being improved.
There is no vehicular access to the town as the streets are too narrow with lots of steps.
I think he's waiting for his change again. We had lunch in a restaurant overlooking the sea and then raced back.
The little motorbikes are great fun and well worth hiring for 8 euros a day. No form filling or insurance, just pay your money and set off. They will lend you a helmet if you wish but it was great just riding in shorts and T shirt.
---