Falmouth

Aurora_b
Mike and Liz Downing
Thu 7 Aug 2014 12:10
Spent an enjoyable (but expensive) week in the marina doing jobs that needed access to facilities and town, such as thoroughly washing the boat down, provisioning, visiting the dentist, repairing a couple of things that needed spares, refueling and getting a phone organised (and Internet access for the computer and iPad). Now we've come up the Fal river (where there's no mobile signal!) and are moored amidst beautiful countryside - well beautiful when the sun is shinning, not so beautiful when it rains and we have had equal measures of both. But it is peaceful and we can take it easy, with a bit of exploration in the dinghy and a few jobs that don't need shore-side facilities (e.g. whipping the ends of new mooring ropes we bought in Cape Town and cleaning the stainless steel (that does stain!)). It's also a quarter of the price! Hope to be on our way east again soon.
A few photos of Falmouth, but first a few from the last few days at sea.
Something we only ever see at sea (as we're not normally up) - a beautiful sunrise!
(On a postcard in Falmouth - "I love the dawn, but just wish that it came later in the day")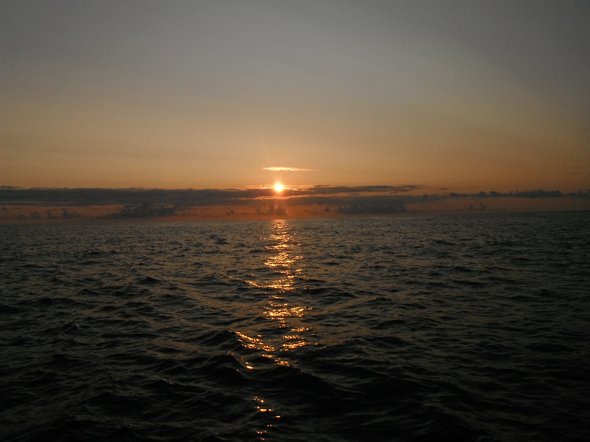 See many more of these, at sea or ashore - a sunset.
Another sunrise, but through a layer of cloud.
One of our motoring days - hardly a ripple on the surface.
The start of the continental shelf is visible on the chartplotter, along with some of the
Spanish fishing fleet! The zig zag is the tack we put in to get back to the north of our
course line. (We use yacht symbols to mark our noon positions and skull and crossbones
to mark places to avoid.)
A normal day in the Western Approaches! We counted over 70 ships.
One all by itself anchored near the entrance of Falmouth harbour.
Our first entrance to a UK harbour in 6 years and we find ourselves in the middle of a
yacht race! Had to dodge in and out between a whole fleet of these, however,
they were rather picturesque so it wasn't that bad.
Heading up the Fal river and well inland, turned a corner only to find these mothballed
ships. The river is deep so can accommodate big ships, but they do look completely out
of place in the middle of fields and woodland.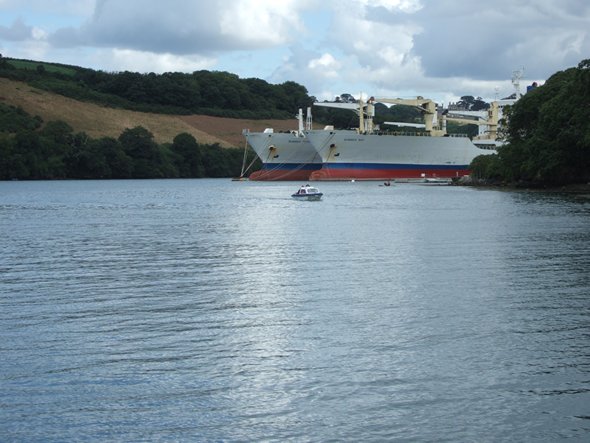 And turn another corner in the river and more mothballed ships.
They're quite big at over 500ft long.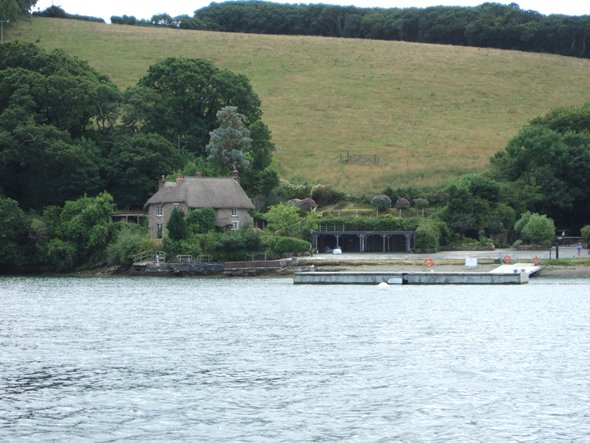 The Cornish countryside - green fields and hedgerows, and a thatched cottage!
---