St Helena Pictures

Aurora_b
Mike and Liz Downing
Thu 10 Apr 2014 12:58
We're on Ascension Island and are going to try sending these pictures using the old interfaces that the service provider put in before wifi was so widely available, and before mobile access was available at all. So hope they work! The Internet here is slightly different to St Helena. It's £5 an hour, but you can't stop and restart. So you have to have everything set up ready to go and then connect and hope you don't have any problems!
So a few pictures of Jamestown and St Helena, but firstly a few of the passage up from Cape Town.
A fantastic red sky as the sun went down shortly after we left Cape Town.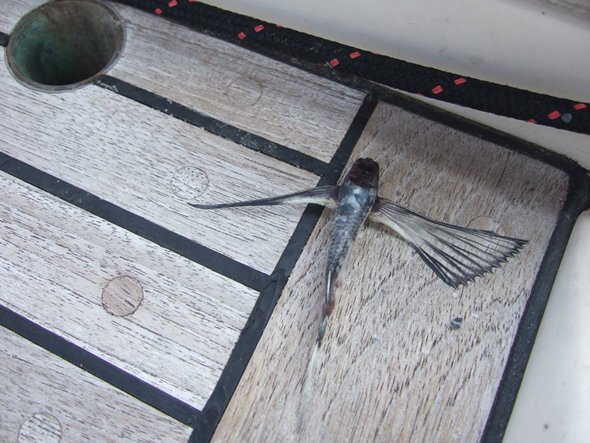 One flying fish that didn't make it back to the ocean alive!
Is this the longest ships name on record? It's the longest we've seen - try spelling that
every time you make a radio call!
The hydrovane working away tirelessly, and not using any electricity!
Liz had to be very quick to get this - 000 00.000E - crossing the Greenwich Meridian!
Jamestown nestled in the steep valley, taken as we approached the moorings which
are to the west (right) of the town. The chop on the water shows the wind we had to
contend with.
The moorings, which look closer to those cliffs than they actually are, but the cliffs still
tower over the boats.
Looking towards the white Customs building on the quay side, with Jacob's Ladder
clearly visibly on the cliff going up from the town to the fort at the top.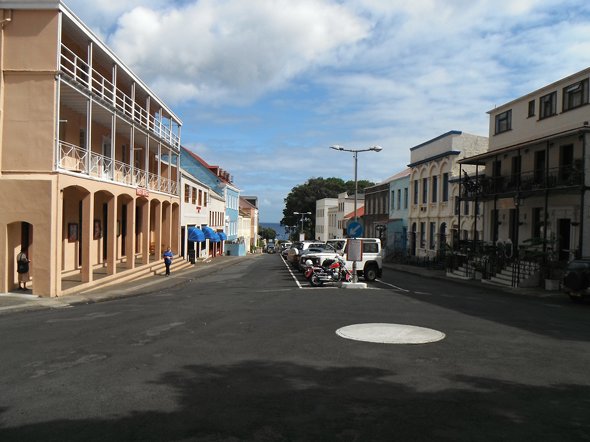 The main street of Jamestown on a quiet Wednesday afternoon - they still have half
day closing on Wednesdays!
Jacob's Ladder - 699 steps and 900ft long, rising up 600ft.
It's a long, long way up!
Well over half way! 25 steps and take a picture (rest!), 25 steps and take another picture
(rest again) and so on - took a lot of pictures by the time we got to the top!
Almost there!
Is that a narrow town or what!
The view from the top - just need to go back down now!
Made it - and a certificate to prove it!
The landing steps on the Quay, with ropes dangling down to help get ashore, particularly
when there's a swell running. There is a dinghy tied further along, but even in these mild
conditions it was repeatedly being bashed against the quay (so not a good thing to do).
---