Azores - Horta on Faial

Aurora_b
Mike and Liz Downing
Mon 30 Jun 2014 21:12
Can't believe that we've been here 2 weeks already. It's a lovely place and if only we could we would be happy to stay quite a bit longer. Horta has the same sort of atmosphere as St Peter Port. Lots of yachts going here there and everywhere, fishing boats coming and going, regular ferry boats and whale watching boats, and the occasional cargo ship. So there's always something going on and lots to see. The visiting yachts, and there must be 60 or more of all nationalities, are mostly rafted out 3 or 4 deep against a couple of the marina walls and that adds to the atmosphere. We were 4 out when we arrived, but with boats leaving we're now against the wall, so it's easier to leave the boat, knowing we haven't got to move to let someone out. The downside is that we have other crews marching over our foredeck whenever they want to get off and on, but it's not that bad.
Quite a lot of the 2 weeks has been devoted to carrying out proper repairs for the deck leak we had on passage. Getting the old scupper out was far from easy, taking a whole day (working well into the evening). The deck's inner core had to be dried (we have a 2kw hair dryer that doubles as a heat gun!) before the deck core was sealed and the supper re-bedded back in it's place. That now looks good having passed the tests of rain and hose pipe. However, the other fitting was not so good. It's actually an ex-fitting. It was a support to hold the old radar pole so had a plate on deck with 4 holes through the deck. It was removed back in 2007 and the holes were filled and plugged with teak dowels on deck. When at sea we found water coming from these, but assumed it was water coming from the scupper leak and finding a new route in as our temporary repair had stopped the water coming in around the scupper. But it was not the case - this was a completely separate leak, so we had 2 leaks! .These have now been drilled out and re-filled and plugged. So we'll let everything cure and set for a day or so and then test it out again. Then, fingers crossed, we might be able to re-fill the lockers and tidy the boat up a bit!
Then there's routine maintenance like changing the engine oil, greasing the winches not greased in South Africa, going up the mast to check the rigging, varnishing the cockpit trays. There's also the need to dive under the boat at some stage to check that the rope we got caught in the rudder bearing didn't do any damage. The water's incredibly clear here, so it's possible to do it while tied up in the marina.
But it's not been all work and we have taken time out to go whale watching, seeing several sperm whales, two each with a calf, together with lots of dolphins. There's also some good walks here and it doesn't take long to get out of the town. And it's been time to get the paint brushes out to do a bit of legal graffiti, recording our visit here on the marina wall. It's supposed to be unlucky if you leave Horta without painting a picture to record your visit, so pictures are everywhere - on the marina walls, the breakwater, even on the pavements along the waters edge, and some are really excellent. It makes the marina very colourful. Our picture is functional rather than artistic - just glad I didn't try making a career out of sign-writing! It's still in production as rain has stopped play twice. That reminds me, Faial is a strikingly beautiful green island, and if our travels have taught us anything it is that if it's that green it must get lots of rain, and it does! We have had mostly fine days, but we're now getting quite a bit of rain. Some heavy, but mostly a wet cloud (is there any other?!) seems to envelope the town giving fine drizzly rain. Pictures of the paintings will be in their own blog entry as including them here makes this entry too big to send. There are a couple of bars here showing the football on big screens, so we've been keeping up with that (despite England's poor performance!).

Although there's plenty going on here, it's also very peaceful too. Having been on the go and keeping to a tight schedule for a long time (we've sailed 17,500 miles in the last year - 8,000 in the last 3 months) it's nice to get to a place where we can relax, Yes, there's quite a lot of work to be done, but there are no critical weather related schedules and in the second week relax we have. When only getting 4 hours sleep at a time on passage, sleeping 8 hours in one go is a real luxury (and some days that's been nearer 10!).
Part of the marina showing the inner harbour to the left (surrounded by a huge sea
breakwater)and the marina to the right, with paintings everywhere. Yes, squeezed next
to the wall on the right is Aurora B.
Incidentally, look at the boat next to us, in particular her bow. It's not supposed to look like that and has been smashed in. He T-boned another yacht just 25 miles from Horta. Both were coming from the Caribbean and hadn't seen another yacht until then. Both were single handers - one was down below cooking and the other on deck, but he didn't see the other boat coming under his sail. The second boat had more extensive damage. The probability of it happening must be minute, but happen it did!
The view we wake up to every morning (assuming it's not raining!).
That's the inner harbour protected by the huge breakwater (also covered in paintings) where yachts can anchor if they don't come alongside the harbour wall or go in the marina. The
mountain is on the next island 7 miles away.
The island and the mountain are both called Pico and it's the highest mountain in
Portugal at 7,640 ft. It has a different cloud formation on it every day. On rare days it's
completely clear.
Cafe Sport has been a meeting place for yacht crews since the very beginning of yachting
as we now know it. Many a famous yachtsman has visited and left a diary entry that's
available to read.
Cafe Sport is now itself World famous, as is it's logo, having been run by Jose Azevedo
(known as Peter) for many years. It was originally started by his father and is now run
by his son.
The road that cafe Sport is in has been renamed in Jose's honor.
Walking round town there's a lot of fine architecture and as it's built up the side of a hill,
from the sea it is especially picturesque.
All the streets are cobbled and the pavements have mosaic designs.........
....... such as whales, ..........
......a lady's cape, and ..........
...... windmills.
Tiled designs also appear and these were outside the market.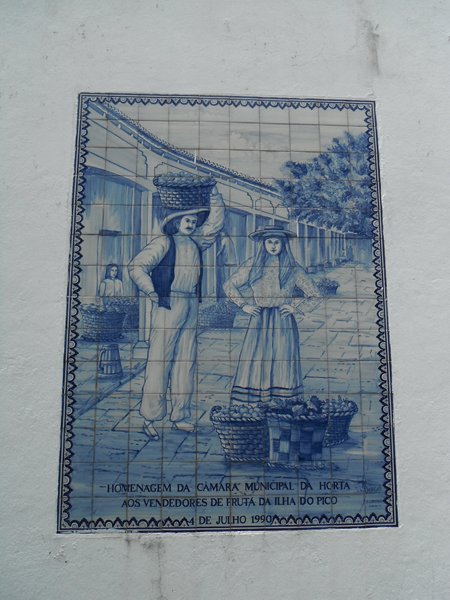 A short walk takes you up the Monte de Guia where there are fine views over the town.
The black sand beach is the main swimming beach. The water is crystal clear, but judging
by the reaction of those going in, cold!
Looking down from the Monte de Guia into the flooded caldeira and out to sea.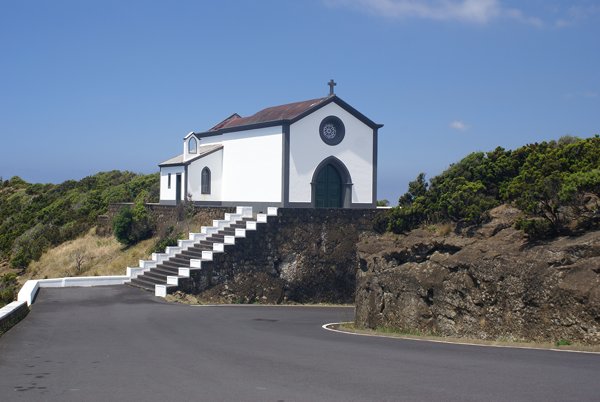 The church on top of Monte de Guia.
A sperm whale blowing and ................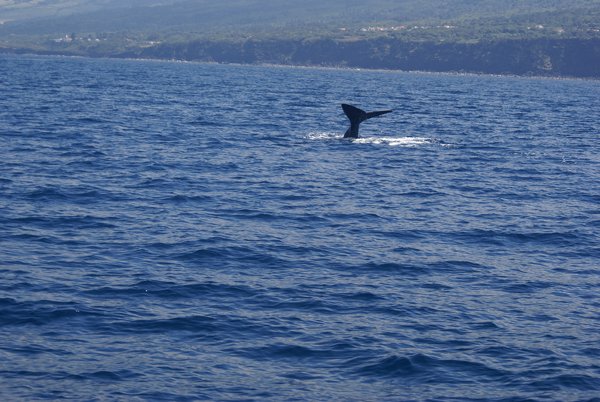 ...................... diving.
Another diving, and ..............................
........... another, but this one has a calf alongside.
Dolphins were not going to miss the opportunity to show off and see who could get closest
to the bow of the whale watching boat (which was traveling at speed).
---