Some Statistics So Far

Aurora_b
Mike and Liz Downing
Wed 7 Oct 2009 02:33
Some statistics from the first phase of our journey. We have been away from the UK for 14 months and so far sailed 6,186 nautical miles. That's about 7,114 road miles. We have visited 19 countries, clearing in/out with Customs and Immigration each time, and more as we visited some countries more than once as we went up and down the islands. (Here in Trinidad, Immigration only have one set of rules for ships of all kinds, so our passport stamp states that we are here on shore leave!) We have been in the Caribbean for 9 months, but have only refueled on 4 occasions as, apart from here in Trinidad, the winds have been consistently 15 to 25 knots day and night, so the motor only gets used in anchorages at either end of a passage. We are now further south than we have ever sailed before, being at about 10.5 degrees north, just over 650 miles north of the equator. The sun has traveled to the north of us in the sky and back to the south, but at all times just appears to be directly overhead, so it's really hot when there isn't any cloud cover. Since arriving in the Caribbean, the daytime temperature inside the boat has been around 30 degrees C, dropping to 27 degrees at night. It's okay as the winds cool you down on deck and we have a windscoop that funnels the wind below. But, as said before, that's not the case here in Trinidad though - most days have very little if any wind and with daytime temperatures around 33 degrees C and quite a lot of rain (it's the rainy season from June to November) it's very hot and extremely humid. That's why we've rented the air conditioning unit which keeps the cabin around 25/26 degrees - it feels quite cold compared to being outside. We have seen the Southern Cross in the night sky and on a few nights were able to see both the Pole Star in the north and the Southern Cross in the south - which was a bit special. We've used 8 tanks of diving air to clean the bottom of the boat on 6 occasions - the British antifouling is no match for the rapid marine growth in the clear warm waters out here.
We have met lots of very friendly people en route from all nationalities. The majority are probably Canadian (all getting away from their cold winters back home), followed by American, but we have also met British, Australian, Kiwi, Austrian, French, Dutch, German and Italian cruisers.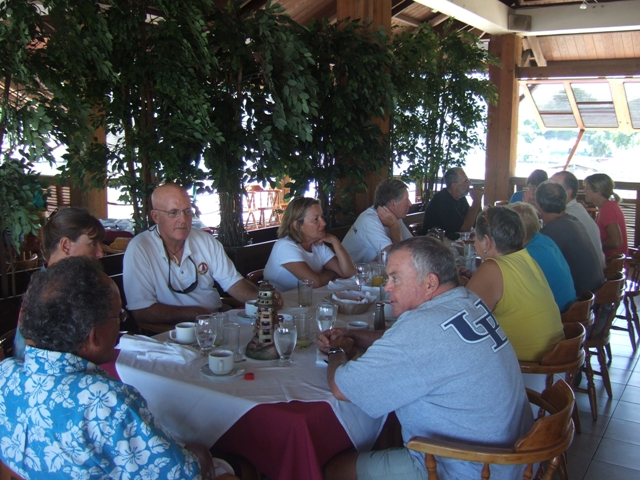 Fellow cruisers at the Mariners' Breakfast on Saturday morning.
They have modern malls here, just like home, but local shops look more like this
---