Bathurst Bay, Morris Island, Portland Roads, Albany Passage

Aurora_b
Mike and Liz Downing
Wed 4 Sep 2013 13:09
Day hopping from Lizard Island to Seisia, stopping at a different anchorage each night.
Bathurst Bay. A huge bay, very shallow for a long way out and the hills were covered in boulders.
The sun going down at Bathurst Bay. We had the huge bay all to ourselves.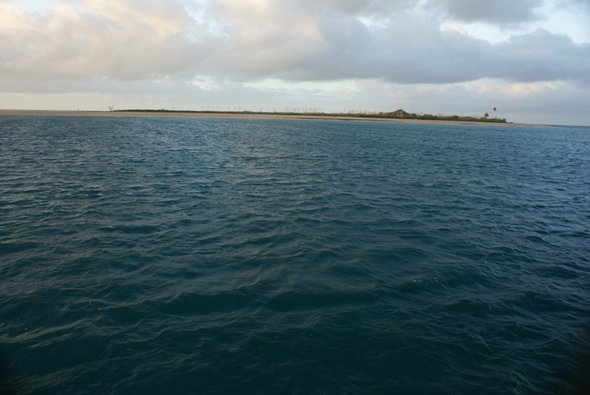 Anchored off Morris Island - what we saw in the morning, having anchored in total
darkness using the chartplotter and radar. There really was not much too it, and again
we had it all to ourselves.
Anchored at Portland Roads. The surrounding hills were covered in thick tropical
vegetation. We shared the anchorage with several trawlers which were using the
anchorage as a base.
The ship that we almost didn't see! It's big enough - how can you miss that you might say (or
words to that effect!). Concentrating too much on heading for the anchorage and not looking
far enough ahead. It's the first ship that's used our AIS contact details to call us up and
ask if we wanted to pass green to green. Which of course we did.
Another fabulous red sky.
Heading through the Albany Passage with white horses all around, but not big ones thank
goodness!
Aurora B enters the passage, with a route to keep her in the middle. The tide roars through
here and you need to be going with it. We actually caught it at slack water, so didn't get
much assistance from the tide.
One of several lovely beaches along the Passage.
Almost through, with Cape York within sight. We sailed through under a well reefed genoa so
went through at a fairly gentle pace of around 4kts.
Looking back as we leave the Albany Passage behind and start turning left! From then on
the heading has been west as we head along the top of Australia.
---