8th April - Rotorua 2 - Waimangu

Aurora_b
Mike and Liz Downing
Wed 20 Apr 2011 10:32
In the afternoon it was on to the Volcanic Valley of Waimangu - a walk/hike down a volcanic valley that was only created in 1886 when Mt Tarawera at the end of the valley erupted.The walk is about 4km downhill through forest and leads down to a big lake, Lake Rotomahana, passing more craters and small lakes (including Frying Pan Lake - all hot and steamy), streams with boiling water pools all along their banks and sinter terraces. The Pink and White Terraces were once visible here and known as the 8th wonder of the world until covered by the Lake Rotomahana when the volcano erupted. There is a detour on the walk that's a hiking track and takes you up along the rims of several craters. It's all forested so not possible to see in the craters, but the views down and across the valley are great. It was only when half way along the track that we realised it was a bit longer than we thought and we needed to get a move on to make certain we got to the lake before the last bus back up the valley. If we missed it, it would be a 4km uphill slog all the way back. Not what we wanted at the end of the day. This wasn't to be the only time during the trip that catching the last bus was important! Unlike Wai-O-Tapu, there was hardly anyone else here, so no one to pace ourselves against. But not a problem, we made it with 10 minutes to spare.
Looking down the lush valley with Mt Tarawera in the distance.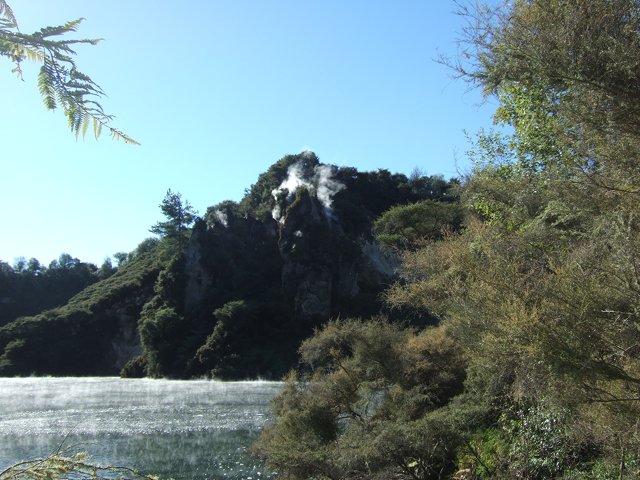 The Inferno Crater - one of the hot steaming lakes, and steaming hillside.
And another - Echo Crater and Frying Pan Lake. What looks like a waterfall
is a plume of steam.
A stream left the hot lakes at the top and meandered, sometimes cascading, down the valley to the big
Lake Rotomahana at the bottom. The track followed the stream to the lake.
All manner of bubbling water, colours, and vents had formed along the stream's bank.
All quite unreal!
The detour via the hiking track - this is at the end of the track, going back
down to rejoin the main track along the stream. Wooden steps like these are not
uncommon. The NZ DoC (Department of Conservation) go to great trouble
and expense to create and maintain good walking tracks all across the country.
Above and below - not snow, but a sinter (silica) platform.
Lake Rotomahana at the end of the valley. The crater that can be seen on the side of Mt Tarawera
is where the eruption took place in 1886.
---