Wednesday 23rd February - Arthur's Pass to Hokitika

Aurora_b
Mike and Liz Downing
Fri 25 Mar 2011 10:20
Continuing our drive through Arthur's Pass to the west took us to the pass summit, at 3,030ft above sea level, and then over the Otira Viaduct. Once over the pass there was a sudden and dramatic change in the scenery. It changed from spectacular scree covered mountains with little vegetation other than golden coloured tussock grass on their slopes, to mountains covered in dense rainforest right up to the tree line. The rainforests here are not tropical rainforests, it's much too cold (the temperature had dropped to below 10 degrees C in the pass), but temperate rainforests. Temperate they may be, but they are as dense and lush as any we saw in the tropics and with an abundance of tree ferns, looked quite tropical. The temperature though was definitely not tropical. With very high rainfall the whole west coast of NZ is covered in these very old rainforests.
Eventually the west coast and the Tasman Sea appeared and we turned south to run along the coast to Hokitika, our next stop for just 1 night. The afternoon was spent visiting the Hokitika River Gorge, about an hour's drive inland, and walking over our very first swingbridge. The evening was spent walking along the long, wide beach and waiting for penguins - the Little Blue Penguin. They come up the beach at dusk, so they say, but not tonight. So we didn't see penguins, but we did see driftwood - the beach was driftwood heaven! It was covered in driftwood of all shapes and sizes, from small handy sized bits to huge tree trunks, all weathered white and just perfect for selling to garden centres back home! When in flood the fast mountain rivers here are incredibly powerful and carry fallen trees down to the sea and they eventually get washed up on the beach.
Just over the summit and on the way down, but this is looking back towards Arthur's pass as the clouds
descend. The weather changes very quickly here and the mountain sides are much greener.
Over the Otira Viaduct onwards towards the west coast.
The Hokitika River Gorge - blue, milky coloured water as the river brings down powdered rock from
the mountains.
The gorge and swingbridge ........
.... which we all crossed. Get more than 2 people walking on it at
the same time and it really does swing!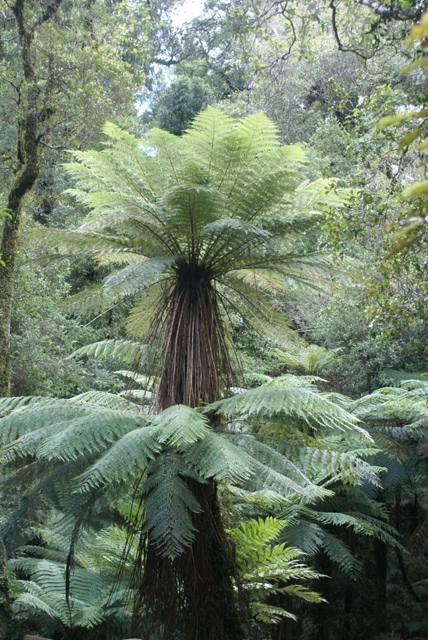 Tree Ferns in the temperate rainforest.
Driftwood - the beach at Hokitika was covered in both directions as far as the eye could see.
---