Urquharts Bay - Whangarei River 35 50.80S 174 31.83E

Aurora_b
Mike and Liz Downing
Thu 19 Apr 2012 10:06
The original intention had been stay a week or more at Great Barrier Island before making our way up the coast to Opua, the jumping off spot for leaving New Zealand. However, with all the time taken to get the engine fixed, there is no longer any time left to do it. So having arrived at Great Barrier Island yesterday, we left first thing this morning to cross back to the mainland further up the coast at Whangarei. The town of Whangarei is a fair way up the Whangarei river. It's a long passage by boat, and a rising tide is helpful! It's not a passage that we have ever wanted to do, and we definitely don't have the time now, so Urquharts Bay, at the entrance to the Whangarei river, was the aim for today, arriving at 16.30. It was a passage of 46 miles and a very frustrating one. There was enough wind to sail, if the sea had been slight. It wasn't. The confused choppy swell was the major problem as the wind was not strong enough to keep the sails full when one of the bigger swells caused the boat to roll. The sails would then collapse and refill with an large, potentially expensive sounding, bang. Poling out both headsails helped, most of the time, but when the apparent wind dropped below 5kts even they did a partial collapse. So we sailed some, motored some, sailed some etc. etc. all day. Apart from that, it was a lovely sunny day.
The anchorage here has stunning scenery on 3 sides - high forest-clad hills mixed in with stretches of very green grass (did I say that it rains a lot in New Zealand!), making it look like a well manicured golf coarse. The 4th side is not so pretty. It's a large oil refinery - not as big as Fawley, but along the same lines. Actually, at night it's lit up like Christmas trees and so perhaps it is just a little bit pretty then. There are a few empty boats on moorings here, but just 2 other boats at anchor, so it's very quiet.
One of the many anchorages at port Fitzroy on Great Barrier Island. Most of the anchorages were as busy as this one!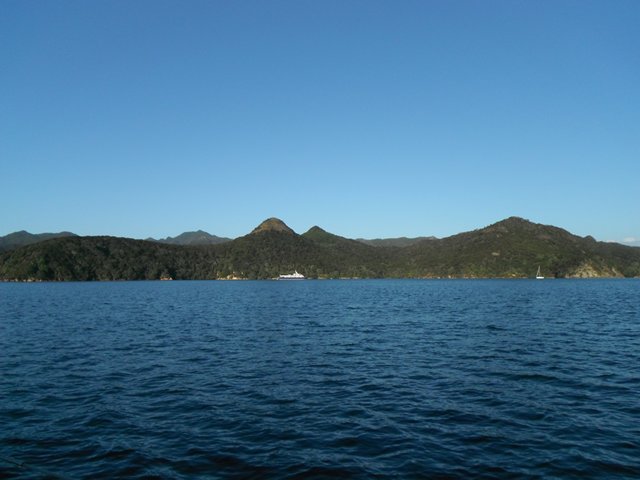 A really busy anchorage - 2 boats!
The way out from Port Fitzroy, leading out to the open sea.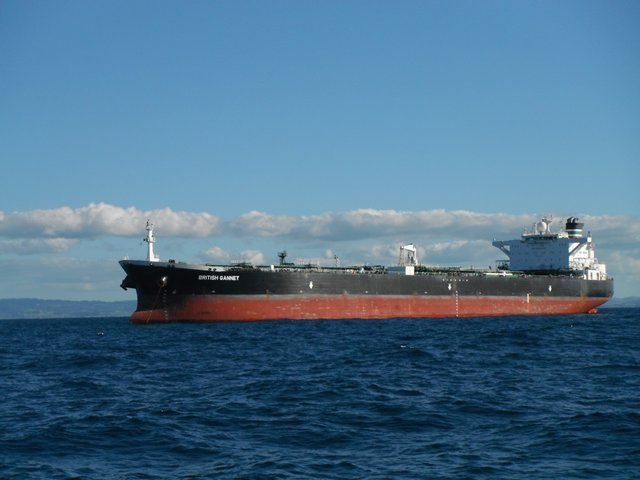 The oil tanker, British Gannet, anchored outside the entrance to the Whangarei river.
Looking ashore from our current anchorage in Urquharts Bay at the mouth of the Whangarei river,
and ........
....... looking the other way.
The oil refinery behind us, as the sun goes down.
---