Brisbane

Aurora_b
Mike and Liz Downing
Fri 23 Nov 2012 12:54
Seeing it for the first time Brisbane's high-rise skyline is an impressive sight. And when you get into the city it's all well laid out along the twists and turns of the Brisbane river. From what we could see it's a lovely clean modern city and very easy to drive around. In fact the areas we've been through so far have been like that with signposts and street names up high and easy to see.
While in the Brisbane area we had to visit the Koala Sanctuary with over 100 Koalas and other native Australian animals. As well as looking cuddly, and against popular belief, Koalas do actually move, and quite fast when they're on their way to a new feeding area.
A long-time ambition was fulfilled in Brisbane - spending a day at a cricket test match. Having played until almost 30 and watched and listened to loads in the UK, it's something I wanted to do, but we never found the time. So as the ground here in Brisbane is not that far away and the first test between Australia and South Africa just happened to be on, we had a very enjoyable day at the Gabba watching the cricket.
The Brisbane skyline across the Brisbane river.
Along the south of the river there's a long park area called, not surprisingly, South Bank.
Within this they've created an artificial beach with sand, palm trees and a swimming
lagoon.
Although strange at first seeing people swimming and sunbathing in the middle of the city
10 miles inland, it did seem to fit in. Perhaps it's the lovely hot weather that made it seem
more natural.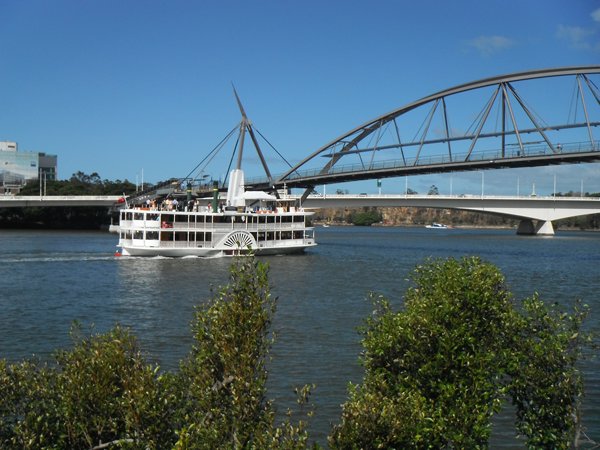 One of the paddle steamers that cruise the river, approaching one of the more futuristic
bridges.
The walkway along the South Bank - the largest and most beautiful bougainvillea archway
we've ever seen (this is only a small part of it).
Small is beautiful, but not in this case! Someone sailed to Australia in this, from New Caledonia I think,
and then had it confiscated by the Australia Customs as they couldn't pay the fine for entering the country
without a visa. It's now in the maritime museum.
The Gabba cricket ground. Australia v South Africa.
An action packed moment! There weren't too many in the morning session and Liz
regretted not bring her knitting! It did liven up in the afternoon when Australia had
fought back and started to get on top.
The drinks session - supplied by Gatorade!
Ahh!
Looking quite lively.
A bit of a blur as he moved so quickly!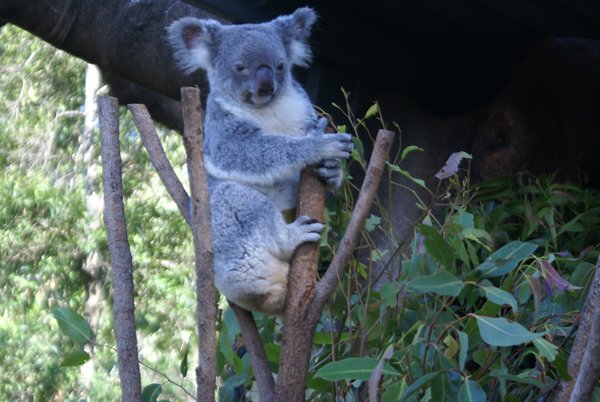 King of the castle, surveying his territory.
The normal Koala pose!
Couldn't go without seeing the Kangaroos. Mum and joey (in the pouch) feeding.
It's a hard life!
Couldn't get much closer .......................
....... perhaps you could! (And joey continued to feed.)
A Tasmanian Devil - not something you would want to meet on a dark night!
Kookaburra - a mighty big kingfisher.
It's a long way home!
---