On Safari!

Aurora_b
Mike and Liz Downing
Wed 27 Nov 2013 22:20
Couldn't come to South Africa and not go on safari! The biggest game park in South Africa is the Kruger National Park, but visiting that would mean flying to Johannesburg and then a long car journey. Almost on our doorstep here (75 minutes by car) is the oldest game park in the whole continent of Africa - the Hluhluwe (pronounced Shloo-shloo-ee) and iMfolozi Game Park. It's nowhere near as big as Kruger, but at 95,000 hectares (371 sq miles), it's big enough. It lies in the heart of the Zulu Kingdom and while it has some open plains, it's also quite hilly and the views are spectacular. We shared an 8 seater hire car with Jan and Eli, a Norwegian couple, and Matthew, a single hander from Teddington, and the roads in the park are a mixture of tarred and untarred, but all could be negotiated by ordinary road cars, just. So we drove ourselves and saw a lot more than we expected, but staying the night there we were able to take a game drive with a park ranger in one of the landrover tours. They take about 10 people and the ranger is able to give chapter and verse on everything you see. The downside is that it starts at 04.50 in the morning! It does start getting light here by 04.30, but I still regard it as the middle of the night! But we made it and it was good to see the sun come up over the green hills of the park for a change, rather than over the horizon at sea. At this time of year the park is very green. However, we didn't see as much wildlife as we did when we drove ourselves, so I'm now convinced the animals don't like getting up any more than I do!
After a night at the park, we drove to Thula Thula, a much smaller private game reserve and spent 2 nights there. Here you are not allowed to drive yourself as the roads were just rough tracks that went up hill and down dale at all sorts of angles, and you needed to have a landrover or equivalent. Being much smaller you also came across the wildlife more often and got much closer. In fact we got so close that at one point a disgruntled female elephant chased the landrover away - quite a sight, and a bit scary for those not used to it! We had a game drive in the morning (starting at 06.30 - much more to my liking!), a bush walk and another game drive in the afternoon/evening. It started at 16.30, but came back after dark, so an opportunity to see the night hunters. Going on safari is a first for us and it's given us an appetite for it. If we get the chance we would like to do it again some day. As much as seeing and learning about the animals we also enjoyed trying to spot the large number of birds - over 300 different species of birds have been recorded in the parks.
Local housing passed en route to the Game reserve.
We went in the Memorial Gate, toured that end of the park, stayed at Hilltop Camp (not a camp -
see later), and came out the Nyalazi Gate.
Impala - they were quite abundant in both parks we visited.
Fancy meeting this character coming the other way down the road! A spotted hyena.
Despite it's colour, this is a white rhino. They were close to extinction, but the protection
and special attention they received in this park helped to restore their numbers. We saw
quite a lot of them and very close up (less than 10 metres away). What we didn't see in
this park, despite there being well over 500, was any elephants.
Lots of Zebra in the bush, and ............
.................. on the road.
Also quite a few Giraffe, looking ..............
.............. quite majestic.
We saw herds of buffalo in the distance, but only a couple close up.
A vervet monkey eating the yellow flowers.
What a great pair of ear trumpets! (Could be a female kudu.)
A proper prickly perch for this eagle!
Hilltop 'Camp' with superb thatch was lovely inside and had an array of chalets, in their
own grounds, scattered around it.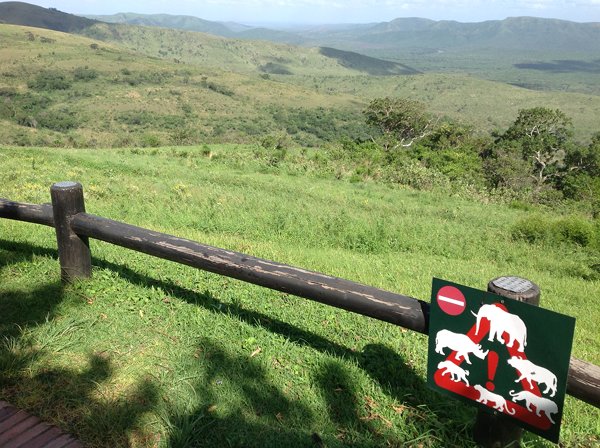 The view from the verandah at Hilltop was truly magnificent.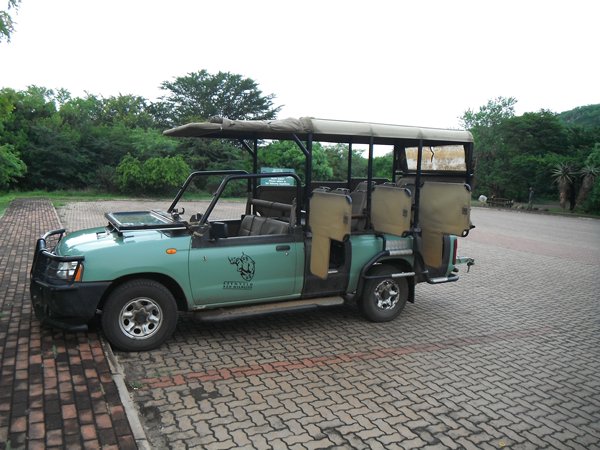 Transport for the game drives - good visibility, but a bit chilly at 05.00 in the morning!
At Thula Thula one of the chalets had leaky water system and the plumber was called!
Elephants at Thula Thula. The herd of 20 something is quite famous as 12 or so years ago
it was considered unmanageable and too dangerous, and was going to be put down. The
owner of Thula Thula, Lawrence Anthony, agreed to take them and changed them into
one of the best viewing herds. How he did it is recorded in his book 'The Elephant Whisperer'.
We did get very close at times and were chased away as if an annoying fly! If it was a
bull elephant the rangers would stand their ground as there was a lot of posturing from
the elephants and they would stop at the last minute and back away. But if it was a female
doing the chasing, the rangers got the landrover out the way pretty quickly. Females
protect the calves and if they feel a calf is threatened, they mean business. Nevertheless,
once they are given more space they stop and get on with whatever they were doing
before.
The heard on the march! They would come out of the bush, across the track and
disappear back into the bush. They had quite a few young elephants including the couple of
very young baby elephants (in the centre of the picture).
More young ones!
Not so young and not so small. You wouldn't want to upset this one!
There were lots of giraffe and zebra at Thula Thula and again we got very close.
The rangers explaining how to track giraffe.
Thula Thula only had two white rhino, both were orphans and had been hand reared at
the reserve. However, the startling fact was that they have an armed guard with
them at all times - 24 x 7 - to protect them from poaching. The guard follows them and
stays about 30 yards away.
Our chalet at Thula Thula - we were upgraded to the biggest chalet they had - the
Imperial Suite. The animals could roam between the chalets and did at night. We had
instructions on what to do if the rhinos are outside the door when you want to go across
the grass to the restaurant! They did have a single high electric wire to persuade the
elephants not to come too close.
A touch of luxury inside! Four-poster beds and a huge bathroom with shower and a bath
overlooking the bush.
The gourmet cuisine was also excellent.
---