Tiritiri Matangi Island

Aurora_b
Mike and Liz Downing
Tue 10 Apr 2012 11:53
Tiritiri Matangi Island is about 2 miles out to sea from the end of the Whangaparaoa Peninsula, on which Gulf Harbour is located, and about 5 miles from Gulf Harbour by boat. The island is a world renowned bird sanctuary. It was replanted with around 300,000 native trees and all introduced predators eradicated, so no mice, rats, stoats, cats, dogs. New Zealand had no land predators so some birds had no reason to fly and lived on the ground. With the introduction of predators by man, including man, those birds didn't last long. Having eradicated the predators from Tiritiri Matangi, 12 of New Zealand's endangered birds have been re-introduced and can be seen and heard, together with less rare birds, in their natural habitat. The island can only be visited 5 days a week and there's only one boat a day, holding up to 170 people. Once on the island, local guides take groups of 6 along the many tracks around and across the island and through the forests. In the afternoon we were free to wander wherever we liked. We didn't see all the birds there, but quite a few, and, for the bird watchers, they included: Stitchbird, Saddleback, Kakariki, Whitehead, North Island Robin, Brown Teal, Bellbird, Pukeko, Takahe, Variable Oystercatcher, Tui, Paradise Shellduck, Fantail and Brown Quail, a few of which allowed their photographs to be taken.
The fast way to get to Tiritiri Matangi.
Variable Oystercatchers
Tui - feeding at one of the few nectar stations that they have on the island. Tui are common throughout
New Zealand.
A Bellbird, and .....
.... another.
One of several Takahes on the island. They are one of the rarest birds in the world and were thought to
be extinct until a small group were discovered in a remote spot in the South Island. They're about the
size of a small turkey.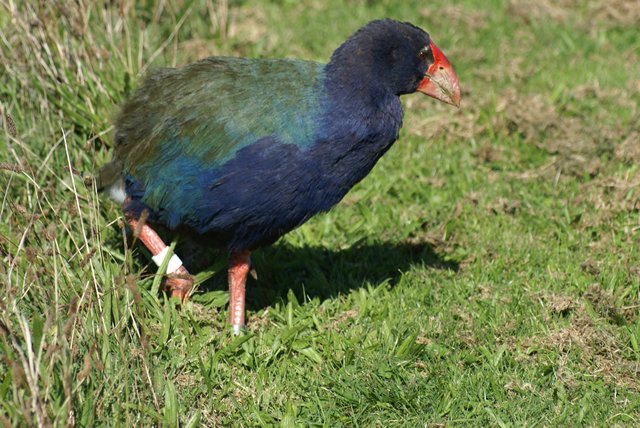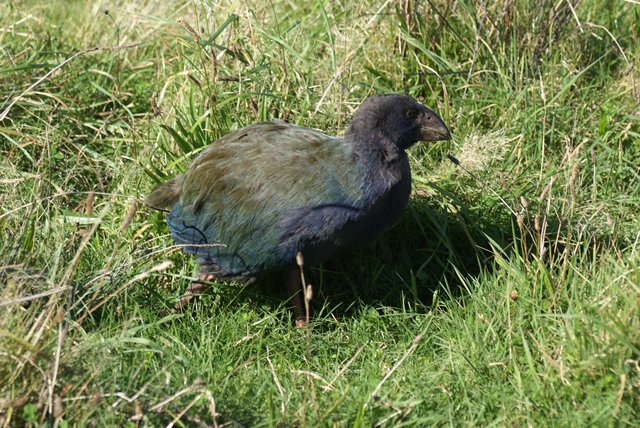 A young Takahe.
A Pukeko. From the same family as the Takahe, but not at all rare; they can be seen all over New Zealand.
They're about the size of a skinny chicken.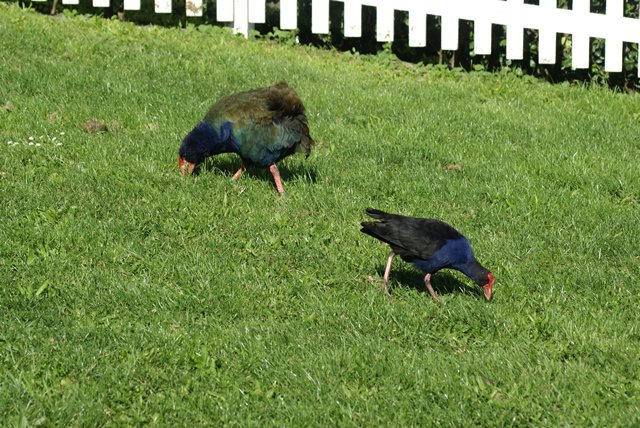 A Takahe and Pukeko side by side.
Built in 1864, the Tiritiri Lighthouse is one of the oldest in New Zealand and is still operational.
A last look back as we head back to the wharf and the boat back to Gulf Harbour.
---