Photos from Isabela - the anchorage

Aurora_b
Mike and Liz Downing
Sat 31 Jul 2010 08:08
The anchorage is between the mainland and a group of rocky/lava islands that give it protection from the Pacific swell. It really is very flat inside, unless the swell is from the south west or west, when it can find its way inside and make it a bit rolly, unless tucked up well inside, which we were for most of our stay. We anchored close-ish to the rocky islands, but put both bow and stern anchors down to keep us in one spot - the wind did come from all directions at times and we could have ended up a little too close to the rocks for comfort if we had swung round.
The anchorage looks bigger than it is - there's a lot of rocks under the water between us and the local
boats in the background. The yacht to the left is another Hallberg Rassy (an HR40).
The rocky islands around the anchorage with the surf in the background. This is where the penguins
spend most of their time. The picture was taken from the top of the mast, as was the one below.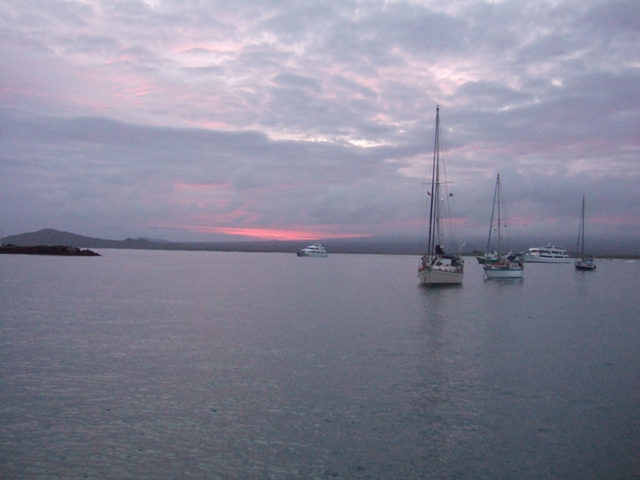 The sun going down behind the hills ........
Just round the corner from the anchorage - an almost enclosed lagoon with crystal clear water -
most of the anchorage was a lovely turquoise colour, but there were too many nutrients in it for it to be
clear.
---