Pictures of Cocos Keeling

Aurora_b
Mike and Liz Downing
Tue 15 Oct 2013 19:01
Some pictures from our passage to Cocos Keeling and Cocos Keeling itself.
The friendly customs plane that checked up on us most days until we were well clear of Australia.
The booby that hitched a ride with us for one night.
It tried several different spots to get a rest. Balancing with webbed feet on a swinging fender was
not one of its better choices!
Sailing off into the sunset!
We had more flying fish on deck on this passage than on any other, sometimes finding 8 or more
in the morning. We had an old bucket in the cockpit and this one flew over the side deck, cleared the
cockpit combing and landed straight in the bucket. Had we realised we would have thrown it back,
but we didn't and had to scrape it off the bottom of the bucket the next day! We did manage to rescue
a few when we heard them thrashing on deck.
The anchorage at Direction Island. The lagoon at Cocos Keeling is quite big (about 7 miles by 7 miles),
but there are coral heads scattered everywhere and the lagoon in front of Direction Island is the
only place you are allowed to anchor.
It's difficult not to take pictures of the water when it's this colour!
Jacaranda with Home Island in the background.
An asylum seeker boat. Not many arrive here with most heading for Christmas Island which is closer
to Indonesia. Once intercepted they are normally burnt and the asylum seekers are shipped off to
a processing centre. This one's been here for quite a while and has survived as it was stolen before
being used and the true owner wants it back.
It doesn't get much better!
Those with time enough to do it leave a reminder in keeping with the surroundings. We met Nordlys
in the Caribbean.
Hermit crabs are everywhere ashore as the sun starts to go down.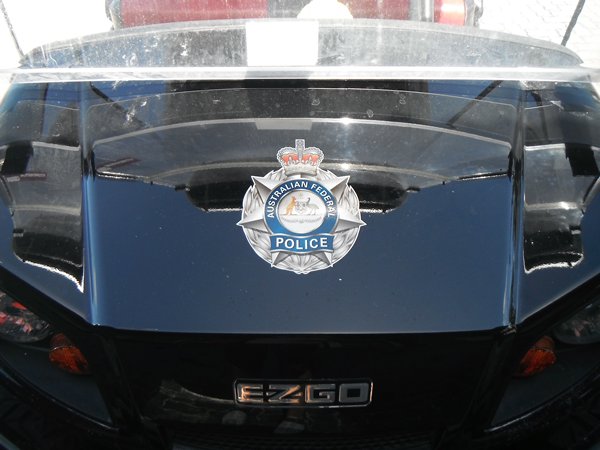 The police car on Home Island...........
............. a golf cart! It's only a small settlement, but all the roads are paved like this.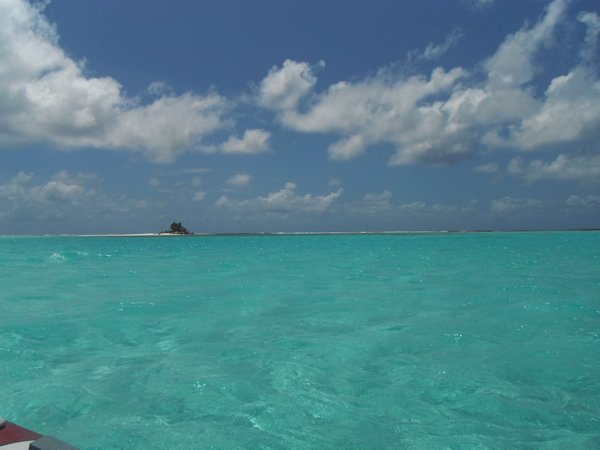 Prison Island, nestling on the reef between Direction Island and Home Island.
Our trip in the dinghy to Home Island - it's like this virtually the whole way.
Aurora B with Direction Island behind. The islands and reef give great protection from the seas, but
not from the wind and as this picture shows, we have often been stern-to to the beach. Not ideal,
but the holding appears good.
Direction Island and the anchorage in front of it. A chart I created using Google Earth.
The cross is where we finally anchored, A1 was our first attempt but a bit too close to some coral. The other lines are the different courses I plotted to get into the anchorage. We chose the centre one, but went straight (rather than the dog leg) and never had less than 9ft even though it was only an hour after low water. It was disconcerting as the water is so clear, the coral we went over looked much shallower than it was. The rip, bottom right, can clearly be seen
Our anchor position shown on our Navionics chart on the chartplotter - it clearly puts us in the middle
of the island! (Looking at the Google Earth picture above, of the same thing, the whole shape of the
island on Navionics is wrong.)
---