The west coast of Antigua - views of Jolly Harbour

Aurora_b
Mike and Liz Downing
Sat 21 Mar 2009 03:21
We had to leave Barbuda to avoid more northerly swells. They are not supposed to be so frequent this time of year, but we keep getting them every couple of weeks or so. Much of Barbuda is open to the north and the anchorages are not good when the swell comes in and crashes on the shore, which it was doing when we left. It was a good sail, close hauled with the 2nd reef in, but making 6.5 to 8.0 knots all the way - a distance of just over 40 sea miles. For the last 10 miles the wind was consistently over 20kts which pushed our speed up to the 8kts. We are learning how well Aurora B goes into the wind and seas when reefed down - being heavy she has the momentum to push through the seas.
Having arrived back at Jolly Harbour, we picked up another buoy in the outer harbour and prepared for our next passage out to the west to St Kitts. The following were taken while at Jolly Harbour.
A lovely coloured Palm tree at the entrance to the Jolly Harbour complex..
Above and below show the beach that runs south from Jolly Harbour - a short walk from the marina. As we were on a buoy we left the dinghy at the marina and walked round. It was generally very quiet with not many people around. The beach is lovely - fine sand, wide and 2 or 3 miles long. The sea is a lovely colour, but milky due to the crushed up shells. The beach is lined with expensive looking houses that are no more than a few feet above water level. They all look like they have shutter protection for when the seas get big.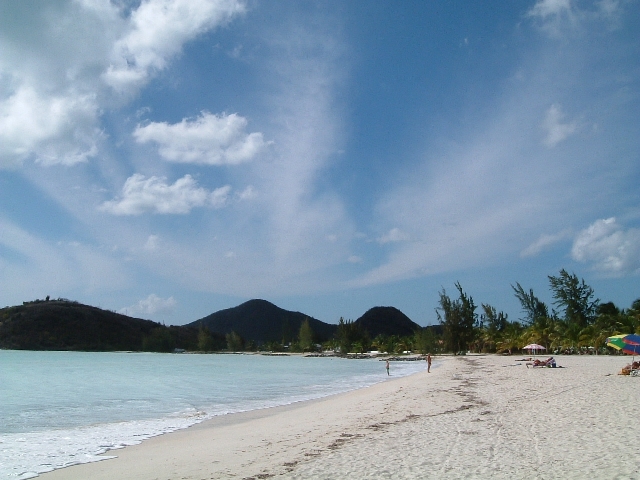 The following show the colours of the shallow water which extend several miles out. We are now leaving and heading west - a down wind sail, the first since the Atlantic!.
.......and not forgetting the brown pelican that was not going to move, no matter how close we came! Note the green marks on the pole - there are very few navigation markers out here and this is one of the better ones. We are on our way out and are in the channel, as the marks are the opposite of those in Europe - going into harbours it's red on the starboard side (right) and green on the port side (left).
---