Monday 28th February - Haast to Wanaka

Aurora_b
Mike and Liz Downing
Sun 27 Mar 2011 04:44
Haast village is where the Haast river reaches the sea and the western end of the Haast Pass, the way through the mountain range rising to 7,800ft on one side and up to Mt Aspiring at 9,800ft on the other. On the way through the pass the road passes the Fantail Falls and further on, the Blue Pools and another swingbridge - they like them over here. They are all very well constructed, so no worries there then, we hope! As the road leaves the pass it runs along the side of 2 beautiful lakes both around 30 miles long, firstly Lake Wanaka and then Lake Hawea, and then back to Lake Wanaka. Wanaka is a lovely inland town surrounded by mountains and nestling on the side of Lake Wanaka. In winter it's one of the main ski centres in the south island and a centre for walking in the mountains, so it was a 2 night stop at another motel to be able to explore. All the motels we've stayed in have been good, but this was one of the posher ones and the view from our upstairs room was fantastic - no need to walk really, just sit on the verandah and look out at the mountains surrounding the town. But walking we did do, the next day, taking the car for a short drive to Diamond Lake and a walk (or tramp as they call it here) up in the mountains.
Fantail Falls
Blue Pools - all the way up the river.
Swingbridge at the Blue Pools
It's all newly constructed - they must have known we were coming!
Lake Hawea on the road to Wanaka.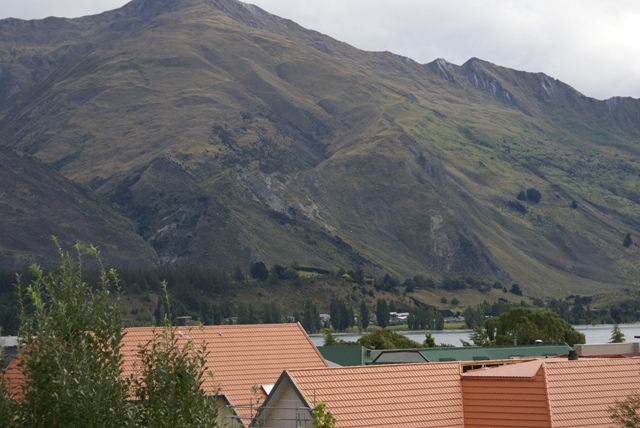 The view from our motel room verandah.
Diamond Lake and the start of our walk.
The walk was up grassy mountain tracks except the for a very steep section where some kind soul had
constructed this staircase! (They are very good over here - all the paths, tracks, bridges etc are well looked after.)
Looking down on Diamond Lake.
Views from the trail.
More views - Wanaka is to the far left, the other side of the lake.
Not quite at the top, but the size of the road in the valley shows that it's a fair way up.
---