It's Good Weather for Dairy Farmers, but...

Aurora_b
Mike and Liz Downing
Sat 29 Oct 2011 04:57
Heard on the radio this morning that it's the best spring for dairy farmers for 5 to 6 years. The pasture grass that's usually around 2 inches is 6 to 8 inches long this year. So lots of grass for the cows (that have now taken over from sheep in New Zealand). The reason, rain and lots of it. So it's great for the farmers, but not so good if you're trying to paint a boat in the open. Especially not good if you're trying to spay paint, which we are! It's either too windy or too wet, so we're having to be patient and wait for the odd good day. There was only 1 in the last couple of weeks and we made the most of it getting the blue lines around the waterline spray painted. To spray in the open here you have to be a licensed operator, so we have been doing all the rubbing down and masking up and the local boatbuilder does the spraying. They did a good job - it looks good.
Tried to spray the blue HR line around the cockpit on Thursday. Had it all masked up, including plastic and/or paper on the decks, over the cockpit, over the boom, they started spraying and it started to rain! All stop for the day. The paint that went on had to be sanded off, covering the plastic and paper in dust, which therefore had to come off. So now we're going to wait for blue skies with not a cloud in sight. The next day like that is forecast for Monday week!
They normally have better weather and spray a lot in the open (which many counties don't allow). They even spray antifouling on the bottom of boats. In fact, of all the boats in the yard that have been launched so far since our return to NZ, all but one have had their antifouling sprayed on. There's a lot of masking up to do using plastic sheeting, especially to protect other boats, but once ready, they spray it in one go and that's it done; no waiting for it to dry and adding a second or third coat. Aurora B has several different types of antifouling and we want to apply it more thickly (to last up to a couple of years), so when we get to that stage it will be rollers and probably 3 coats (all of which we can do ourselves).
Final wipe down before spraying. The white line within the blue line had to be masked with 2 small
fine-line tapes, so in all 4 lines of masking tape had to be put all the way round, plus all the tape to keep
the plastic sheeting in place.
All well wrapped up with plastic. It's there to stop any wind blown spray - don't want blue speckles
all over the white topsides. The Japanese flag (put up for the Rugby World Cup) shows the wind is blowing
towards the road - suspect that some cars arrived home with a few mysterious blue speckles!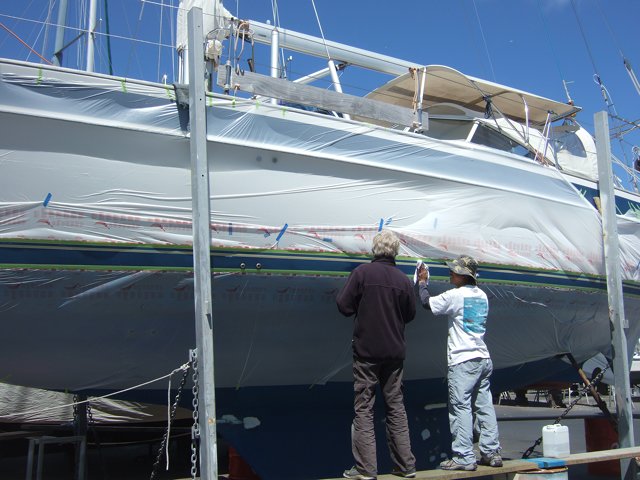 Final preparation, working with Jesse, the spray painter.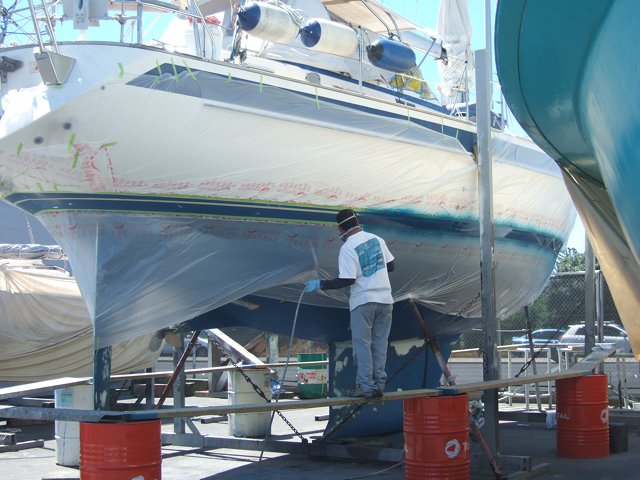 Spraying underway at last. It's a lot of work for a couple of lines, but it does look good and hopefully
they will last a good number of years. Having done this on the waterline, we don't want to go back in
the water until the threat of oil has gone - they're still pumping oil from the stricken ship Rena stuck
on the reef 12 miles from the harbour entrance.
---