The Most Colourful Marina in the World?

Aurora_b
Mike and Liz Downing
Mon 30 Jun 2014 22:35
The Azores are a crossroads for yachts crossing the Atlantic. Most are going from west to east, primarily from the Caribbean, heading for the Med or Northern Europe (France, UK, Scandinavia). Some are heading the other way, back to the USA. They reckon about 1,000 yachts pass through Horta every year and, being a very superstitious breed, most yachtsmen will paint a picture to record their visit, not wanting to risk bringing bad luck on their voyage away from the island. Often sitting in the middle of the high pressure (the Azores high) there's very little wind and it can take many days to sail from here to find wind if you're not keen to use the motor. So you want as much luck on your side as you can get, and if the paintings helps get a little bit more then it's worth it! Besides, it does make the marina, and the whole harbour area as the paintings are everywhere, a very colourful place.The paintings of Horta marina are famous within the yachting world and are one of the Azores' tourist attractions. It's possible to spend hours wandering around looking at them.
Some paintings are clearly hastily done, just to do it, but others are lovingly created and take several days to complete as different colours are added and allowed to dry. The marina even has little log-cabin bins to put the used paint pots in, so it's actively encouraged. We painted one when here last, 18 years ago, and the outlines are just visible. As the paintings wear with time and become unrecognizable, they get over-painted by the next generation of yachtsmen.
Here are a small selection to give some idea of what it's like.
A small part of the breakwater - the whole breakwater is covered.
Had to include this one - we were in radio contact with Indra as we came across from
the BVIs.
They actually came from Bermuda, so were approaching from a different direction, but they called in early in the passage and we kept in touch the rest of the way. Like us, they are also members of the OCC (Ocean Cruising Club) and the burgee they've painted is the OCC burgee.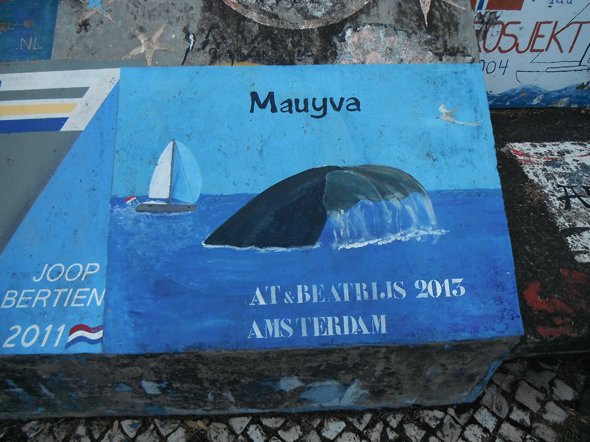 And finally, somewhere to put old/unused paints. There are several dotted around the
marina and harbour.
---