Barbuda - the beach and sunsets

Aurora_b
Mike and Liz Downing
Wed 18 Mar 2009 01:59
The undeveloped island of Barbuda, 30 miles north of Antigua. We had a short weather window to make the visit, spending 2 nights there before returning to Antigua. Barbuda is a low lying island surrounded by reefs (and several hundred wrecks), is half the size of Antigua, so still quite big, but only has one village, a population of only 1500 and the most magnificent beaches you have ever seen. The beach on the west coast runs uninterrupted for over 9 miles and has the softest sand we have come across. It has a very pretty pink hue from the shells the water throws up and all along it the water is a fabulous turquoise. We had to share the 9 miles with just 12 other boats! It's easily the best beach we have come across in the Caribbean. Getting there is a little scary as you are advised to only go there when it's sunny and the sun is behind you, so you can see and avoid the coral heads as you follow the passage between the reef and the shore. It's all very shallow and we anchored in just 10ft of water.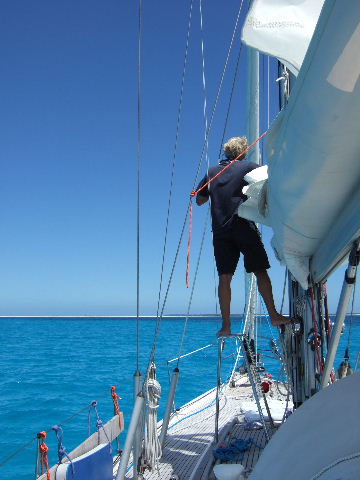 Michael (almost) in the rigging looking out for coral heads.
Looking north on 11 mile beach.
Looking south - both pictures were taken early afternoon!
Such beautiful colours!
Us at anchor - we're quite a way out, but it's still only 10 ft deep.
Driftwood - above and below
Just a few footprints.
Coming ashore!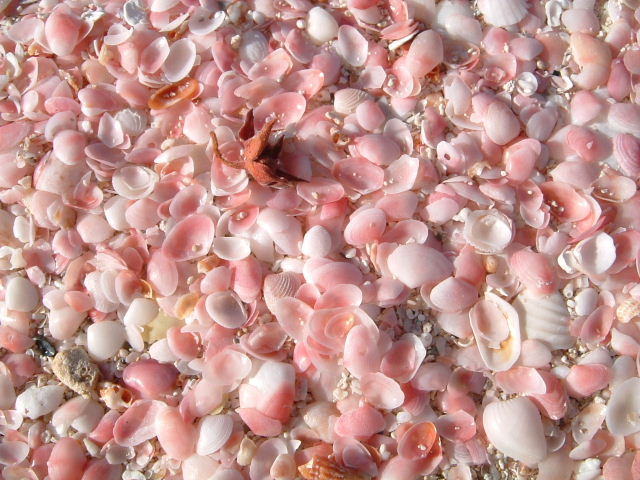 Lots of tiny pink shells get washed up here.
It gives the beach a pinky hue.
This sunset produced the 'green flash'......
the following one didn't - too much cloud.
---