Nevis - The Tour - April

Aurora_b
Mike and Liz Downing
Thu 16 Apr 2009 18:27
In the last couple of years the authorities in Nevis have laid down a large number (100 or more) buoys on the lee (western) side of the island. It is still possible to anchor, but the buoys are in the prime position and were not too expensive, so we tied up to one. There were only about half a dozen other boats there, so lots of unoccupied buoys all in neat rows along the beach. We don't normally pick up buoys as you can never trust the lines, but these all looked as new and the ropes were considerably oversized for Aurora B, so we gave it a try and had no problems.
The OCC (Ocean Cruising Club) Caribbean net (07.30 every day) recommended a tour of Nevis with TC Claxton. She is a Yorkshire lass who has been living in Nevis for the last 16 years and is very knowledgeable. She used to drive a bus in Yorkshire and in Nevis has her own air-conditioned minivan. She is a great character and gave us an excellent tour, including some of the plantation great houses that have been converted into tranquil retreats and hotels, and the lovely botanical gardens where they have a large collection of palms.
T C Claxton, our tour guide. She comes from Yorkshire and used to drive bus in Leeds.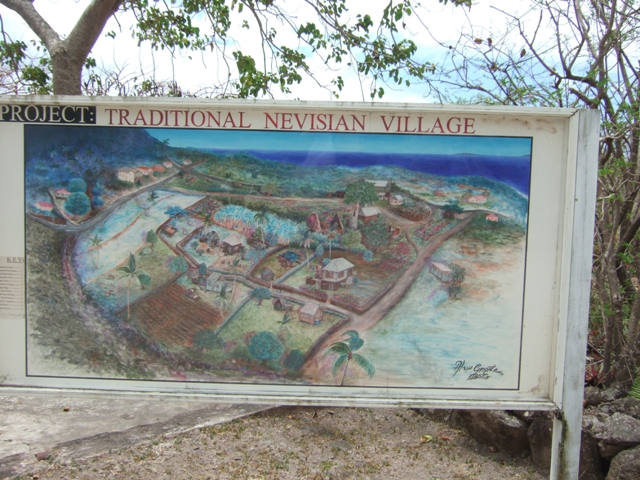 A reconstruction of an old Nevisian Village
Engineering from the UK powered the sugar mills. This one is being renovated.
A reconstruction of a rum shop!
Didn't Grandma have one of these?!
---