Les Saintes - Anchorage behind Pain De Sucre - April

Aurora_b
Mike and Liz Downing
Tue 21 Apr 2009 03:17
It's no more than a mile round to the anchorage behind the headland called Pain De Sucre - a 200-foot hill going straight up from the sea. The anchorage is well protected and there were only 3 or 4 other boats there when we arrived around midday. Later in the afternoon the wind changed more to the north east resulting in us being on a lee shore within the bay. So we experimented with our kedge anchor (small and light) laying it via the dinghy to hold us out in the bay. It worked well, too well in fact as it was a hard job to break it out the next day when trying to retrieve it. The water in the bay was the clearest we had encountered for a while and we could easily see the bottom in 30ft of water. The snorkeling was good - there's a small reef close in shore - so we stayed 3 nights. The last night was interesting. We woke to find the wind was going round to the west as a squall went through and the boat was very soon being blown close to the shore. So while still anchored we motored out around the anchor and waited for the squall to pass before retrieving the anchor and heading south once again.
The anchorage at Pain du Sucre is less rolly than the town (Bourg des Saintes)
Pain De Sucre
A couple of sunsets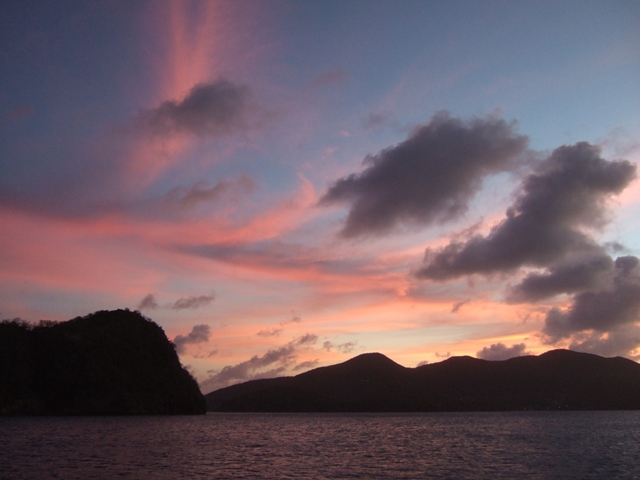 Looking at clouds - is that a man running on the right, or a crocodile on 2 legs?!
---