May update - An Unexpected Delay

Aurora_b
Mike and Liz Downing
Sun 9 Jun 2013 12:45
May was not a good month! Our world was turned upside down with a medical issue, sort of found by accident. It took lots of time going to all manner of appointments, including a couple of hospital visits. They took so much blood during some of the blood tests, it was very hard to resist a quote or two from Tony Hancock! But things have started to come back up the right way and after a few weeks of ordered light duties, we're pressing ahead with getting the boat ready to leave Pittwater. We're now quite late in leaving, but the weather has been kind. Apart from the odd couple of days of continuous rain now and again, it's been mostly sunny during the day with little wind. The locals are saying that it's normally much wetter and colder by now. It is chilly (cold!) once the sun goes down and we've been thankful to have our diesel warm air heating. With a vent in each cabin and used in the evening and first thing in the morning it keeps the boat nice and snug. (Whoever wakes up first gets up, switches it on and comes back to bed!) Our cockpit curtains/clears are also proving a godsend as there's often quite a heavy dew and the deck is soaking in the morning. With the curtains on, the cockpit and everything in it (tools and the like) stays dry.
Light duties have allowed some work to be done, like wielding a varnish brush! So we've managed to do all the varnishing we wanted to do. Replacing the leaking scupper (deck drain going through the deck to a seacock on the waterline) didn't come into this category and after much deliberation decided to contact Colin Beashel and arranged to go over to his yard and let them do it. The scupper started leaking on our trip from New Zealand to Fiji last year, but replacing the deck caulking around it reduced it to a very small weep that's continued ever since. As it's a flush fit in the teak deck, we couldn't see how it was going to be possible to get the old one out without damaging the teak. Having discussed it with HR and a couple of boatyards here no one seemed to have a definite view on how to do it and how long it might take (and cost!), so we thought perhaps we would leave it. But when it continued to weep after 5 dry days, we decided to get it done as there was clearly water in the deck's foam core, and that's not good. After all that concern, Mark at Beashels had the old one out within 15 minutes! And he got it out all in one piece - very lucky as the new replacements from HR turned out to be the wrong size! So the old one was cleaned up and reused. Also lucky was that only about a 15mm radius of core was wet, so it was relatively easy to remove the wet foam, dry out the void and fill it with epoxy, also using epoxy to line the whole hole. We've had 3 days of very heavy rain since and so far, no leak. So it's looking good. While getting this fixed we also had a new bow roller designed to better support the anchor and cope with our 10mm chain (rather than the 9mm HR chain that we replaced in the UK) and had a new jammer tapped through the teak toe rail and into the gel below - we have taps, but not that long. So all in all we came away feeling pleased that we could tick a few more jobs off the list.
Another couple of ticks have been new flares and a new EPIRB. With the EPIRB the battery is supposed to last 6 years and they will then replace it free of charge, so effectively you get 12 years. The only catch is that the battery is the older variety and considered dangerous goods that can't be transported by plane. It just means we'll have to be back here again in 2019 to pick up our free battery!
Sorting out all our paper charts was a light duty job. Although we use electronic charts, we try to have a paper chart of some scale or other for the main route. We currently have 198 paper charts and they took some sorting. Sorting charts for me is like sorting old books - it's impossible not to open them up and take a look, and that's fatal! Half an hour later and I'm still looking, especially if we have our positions plotted on it. So it took a long time, but sometimes it's good to take time out and remember where we've been. All current charts are now the only charts in the chart table and the rest are in our chart store in the aft cabin.
It's not been all surgeries and boatyards as we did manage another day out in Sydney to meet fellow Ocean Cruising Club members, John Maddox and Charles Davis for lunch in the heart of the city. Both John and Charles are past Rear Commodores Australia and between them led the OCC in Australia for many years. It was a lovely day and still sunny and warm after lunch, so a good time to catch the bus to Bondi Beach. We just had to see it before leaving Sydney! Even at 16.00 there were still several groups of surfers trying to catch a good wave. It was further than we thought and by the time we got back to Sydney it was dark, but it was just in time to see the fantastic Vivid displays - a festival of light with light shows on key city buildings, particularly the roof sails of the Opera House. The Circular Quay area and all the way round to the Opera House were packed with people out to see the festival on a Friday night. We've never seen so many cameras! It was a lovely end to a lovely day.
The leaking scupper.
New scupper on the left - it's both shorter and slightly bigger in diameter. The differences were
not obvious when in place as it's not easy to assess how thick the deck is at that point. Still, the
old one was good enough to put back, so it all worked out okay.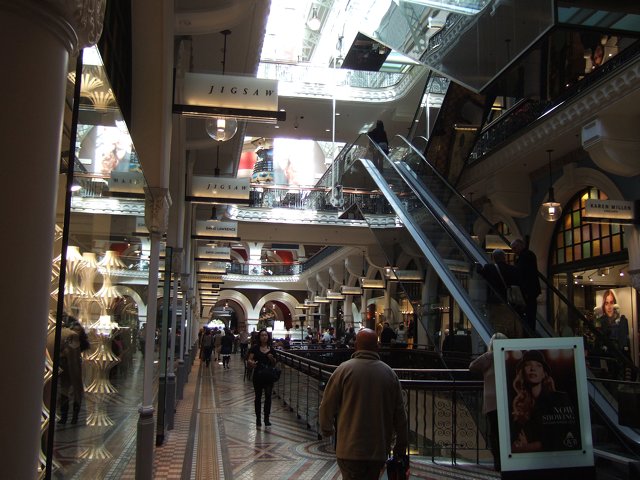 Having arrived in Sydney a bit early (yes, early!) we had a look at the Queen Victoria Building (QVB)
which we had missed in previous trips to Sydney. It is a shopping mall with over 150 up-market
boutiques, but the building was completed in 1898 and is one of the oldest and most impressive
in the heart of the city.
One of the many stained glass windows in the QVB, and ........
........ the floors were all tiled.
The Great Australian Clock hanging in the QVB. An elaborate and fascinating clock. The little
sailing boat continuously circles the clock which includes 33 scenes from Australian history,
weighs 4 tonnes and stands 10 metres tall.
The Royal Clock in the QVB. Every hour it shows scenes from English royal history,
include mechanical animation (e.g. the beheading of King Charles I).
The dome of the QVB from the outside, and ...........
.......... again from the inside, looking up.
OCC members, John Maddox (on the left) and Charles Davis. Both past Rear Commodores Australia,
between them holding the post for 14 years. A good chance to talk about the cruising scene in
Australia. It went all too quickly as after lunch both John and Charles had to go back to work! As it
happens, it was 5 years to the day that we retired - 31st May 2008 (and not the slightest regret!)
Not having to rush back to work, and with the sun still keeping the day warm, it seemed a good
opportunity to see Bondi Beach - something else we had missed on previous trips to Sydney. It's
a great surfing beach, even at 16.00 on a Friday afternoon in winter!
Looking along the beach. It's not as big as we thought it would be (but not bad) and for some
reason the buildings around it reminded us of Brighton.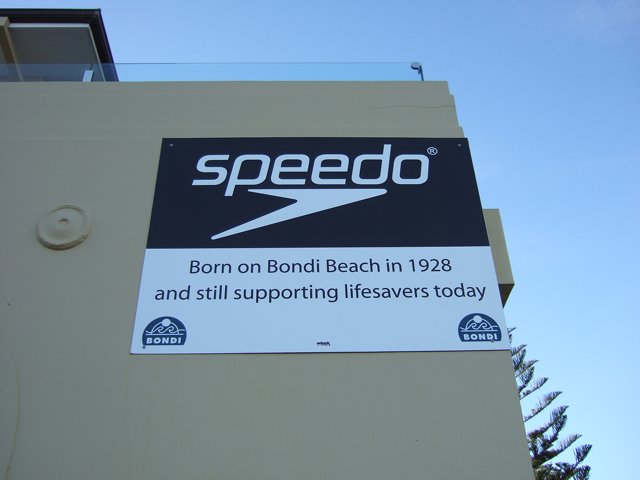 You learn something new every day!
Vivid - the festival of light. The main attraction was the light show on the roof of the Opera House.
Video captured it better, but here are just some of the fantastic displays.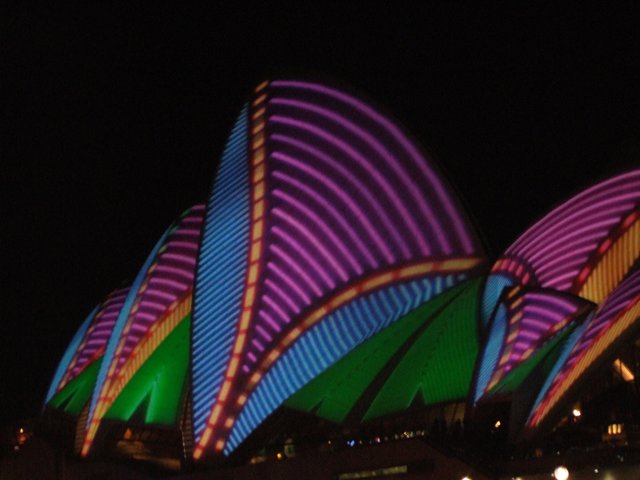 Light shows were directed at other buildings on the waterfront, this being the Museum of
Contemporary Art.
The skyscrapers on the waterfront were all lit up with ever changing colours.
---