10th April - Taupo and Turangi

Aurora_b
Mike and Liz Downing
Fri 22 Apr 2011 06:56
The road south from Rotorua to Taupo is known as the Thermal Explorer Highway and passes through areas of geothermal activity. You get used to seeing fenced off areas with steam coming out of the ground or just steam coming up from behind bushes. Taupo is about another hour further on from Rotorua and quite a big town on the banks of Lake Taupo - New Zealand's largest lake at 239 sq miles, so very big. New Zealand's longest river, the Waikato, starts from the lake and just before you reach Taupo it goes through a naturally restricted cutting and over the Huka Falls. They're not high, but the cutting makes it extremely powerful creating a mass of fast turbulent bluey-white water that plunges over the falls. Throughout its length, the Waikato river feeds 8 hydro-electric power
stations - how lucky they are to have fast running water to create power. There's
no nuclear power in NZ!
Taupo is another adventure destination with all of the extreme adventures known to NZ taking place here or somewhere close by. It's also world famous for something else a little less energetic - trout fishing.
Another 45 minute drive around the eastern
shores of the lake takes you to Turangi - the northern gateway to
the
Tongariro National Park and our planned base for the next 2 nights, but as it turned out, the next 3 nights.
The Waikato enters the cutting, speeds up and ........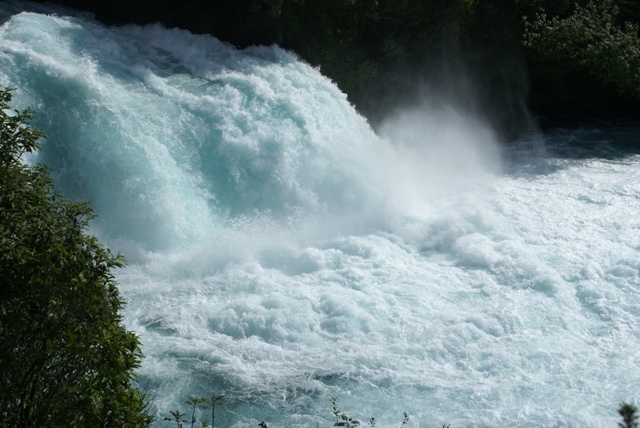 ....... plunges over the Huka Falls.
Once over the falls the river slows to a more normal rate.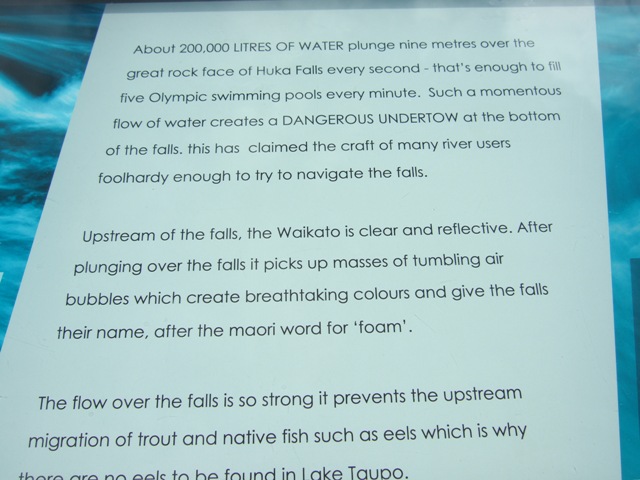 there are no eels to be found in Lake Taupo - just in case you couldn't read the last line.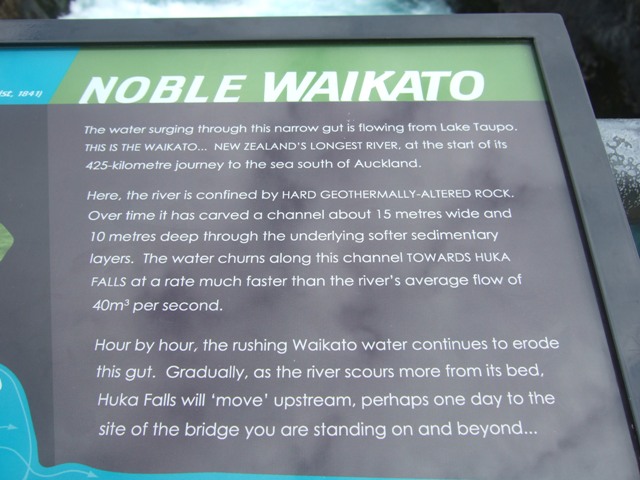 In addition to the river, this shows where Taupo Lake and the town of Taupo are in relation to Rotorua.
The inlet in the big bay above and to the left of Rotorua is where Tauranga is located and where we left the boat.
Tauranga to Taupo is about a 2 hour drive. The Tongariro National Park is just to the south of Lake Taupo.
Looking across Lake Taupo, with Mt Doom in the distance
---