Life in Trinidad + 360 Degree Photos of Chaguaramas

Aurora_b
Mike and Liz Downing
Sat 12 Sep 2009 02:30
Most of our days are geared around boat work, as there's a lot we want to do and time is just flying past. Everyone here is the same, all trying to get all their jobs done so they don't have any serious work to do when they leave after the hurricane season. In the heat things take a lot longer and then, if outside, everything stops when it rains, and boy does it rain - you can't hear yourself speak as the rain is so loud. But we do go up for a swim at the pool, go to pot luck suppers (take a dish to eat and a dish to share) with other cruisers here and on Sunday it's dominoes by the pool! We never thought we would play dominoes, but tried it 3 weeks ago and have played each week since. They play a variety called Mexican trains which goes up to double 12. About 20 people play on 4 tables and it takes about 3 hours to complete. The winner is announced on the cruisers' net on Monday morning. Liz won last week, so is even more keen. It's a good bit of fun on a Sunday, when most people try and take it easy. There is a weekly trip to Movie Towne in Port of Spain. It's a modern, 10 screen cinema just like home. We've only been once so far to see Harry Potter. There Are trips we want to do to see the wildlife here, particularly the birds, but they are better later in September.
The weather has settled into a standard pattern of fine mornings (blue sky and sun) followed by cloud and heavy tropical rain just after lunch. It clears up by mid afternoon and the evenings are fine. There is rarely any wind at all. This pattern changes when we have a tropical depression/storm/hurricane going through to the north, the weather here then improves and when the last tropical storm went trough (Erika), we had 4 beautiful days without any rain, cloud cover or wind. It was so hot, even the teak deck was too hot to walk on without shoes. It also changes when the doldrums come close, when we have tropical rain most of the day. The doldrums are where the winds of the northern hemisphere and southern hemisphere meet. Its formal name is the Inter Tropical Convergence Zone (ITCZ) and it ranges from about 12 degrees either side of the equator depending on the time of year. We are about 10 degrees north of the equator and it's been north and south of us, which is fine, but every so often it has been right on top of us - not good!
On Wednesday it was time for an overdue trip up the mast to check for any problems and unfortunately I found one. The fitting holding the working (inner) genoa was under too much strain and starting to give way. Luckily it has been possible to get it fixed with the mast still up, but both of the 2 forestays that we have had to be removed to do it. It was an unplanned job that took all day to put right. But while up the mast I took some pictures of the surrounding scenery. So if you wondered what Chaguaramas (which is where we are) looks like, these will help. It's a 360 degree tour going anticlockwise - starting by looking north west.
The bigger boats on the far side are the local fishing fleet - long liners that spend days/week out in the Atlantic.
Rain forest surrounds the cove and squawking parrots (100 or more) fly over us each morning from their roosting site to the forest and back again in the evening. Flocks of vultures and frigate birds ride on the thermals over the bay and pelicans fly low over the water from one post to another.
95% of all the masts are boats on the hard. Loads of boats, but most of the people have flown home.
Top left - they fix oil rigs here. There is a huge one out in the bay (not visible from where we are).
The marina is part of this hotel, so we can use the pool and all the other facilities of the hotel.
The restaurant over looking the cove - the lighthouse does show a light at night, but it's for show and not a nav aid.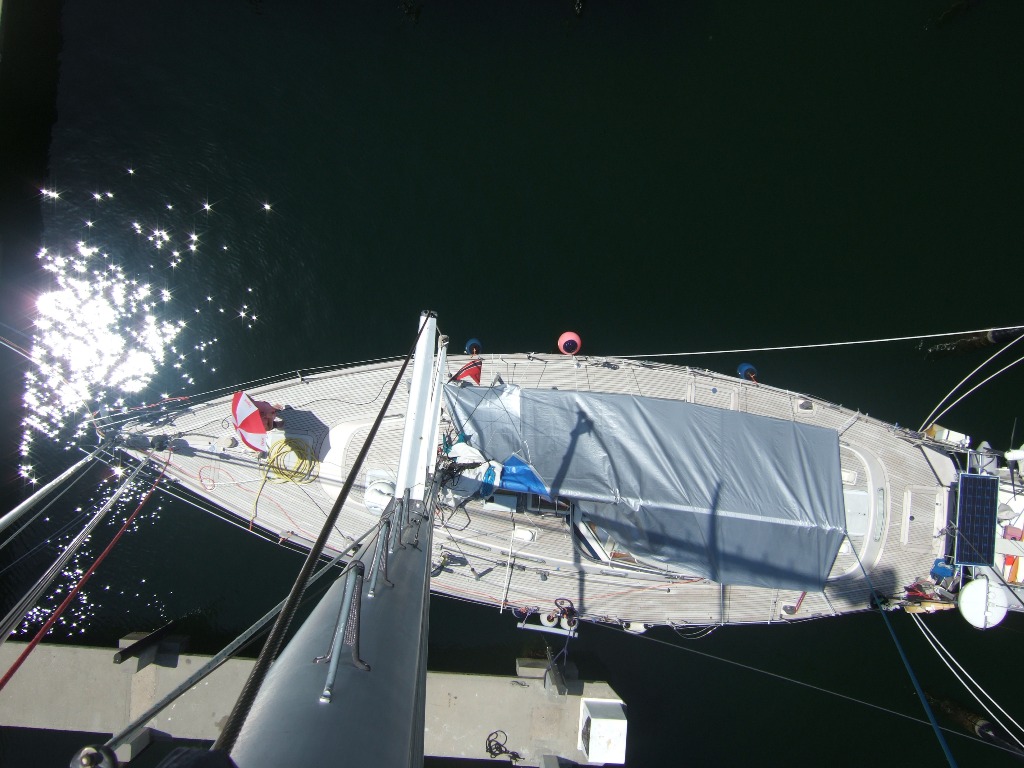 Aurora B, with Liz under the parasol (umbrella!). Like most boats here we have a sun reflecting cover over the boom and an air conditioning unit over the hatch.
---