Another Case of 2 Steps Forward and One Back!

Aurora_b
Mike and Liz Downing
Wed 22 Feb 2012 23:07
Being back in the water and with all gear sort of stowed, at least so it couldn't fall over or wouldn't do any damage if it did, it was time for our first sea trial - just a short trip under motor up and down inside the harbour to check the engine and the repairs to it. All went well and it all looked good, that is until the next day when we found the separate engine bilge full of coolant - the fresh water pump had expired! The design of our engine (a Volvo, based on the old Perkins engines used in the London taxi cabs) generally has good access, but not for the freshwater pump - the cam belt and all the pulleys that it drives have to come off to get to it, so a long and expensive job. (The cost of the pump was quite an eye-opener - at NZ$1050 we could import it from England, pay the carriage cost and still save over NZ$500.) Two weeks on, with the engine fixed, it was a repeat of our sea trial, running on the engine within the harbour (from idle speed to an undignified, for a sailing boat, 'smoking turbo' speed of almost 8 knots) and so far so good. The next step is to get everything stowed so it can't possibly fall over and do any damage even when heeled, so we can go sailing!
Having found the engine problem we had a pleasant diversion, hiring a car to go to Auckland to pick up the liferaft and other safety gear that was in for service. We also picked up the 3 Pickfords boxes (around 60 kilos) that we had arranged to send by ship (as too expensive to send by air). So it's been a bit like Christmas, opening up boxes packed back in August last year. It's good to have it all, but as we take on more and don't get rid of anything (we're not good at that!), Aurora B's getting heavier and the waterline is creeping up!
Hiring a car for a day is quite expensive, but subsequent days become quite cheap, so we hired it for 4 days to drive around and pick up more of the things we will need for cruising again, and took the opportunity to visit a thermal site, the Hidden Valley, in Rotorua that we missed last year. We also met up with cruising friends, Ken and Judith, who we last saw in the Caribbean in 2009. They've flown here and are touring by car and we arranged to meet in Rotorua. Friday the 13th (back in January) had not been a good day for Judith - a fall broke her ankle in 3 places! But it hasn't stopped them - it's been New Zealand by car and wheel chair since then.
The weather's been mixed and the locals are complaining that it's not a good summer, and we had hoped for better. According to the local radio the 'land of the long white cloud' has become the 'land of the long grey cloud'. The cicadas (crickety things) think it's summer - they moved into the boatyard just before we relaunched and are now working their way down the pontoons. This is the only country where we've found them out all day, rather than at dusk or night, and they do make quite a racket which does make it feel like summer.
With the realisation that we might actually leave Tauranga soon, allsorts of last minute jobs have appeared, like getting the diving gear serviced. In NZ diving tanks have to be pressure tested every 2 years. Ours haven't been pressure tested since bought them in the UK back in 2008 so they won't fill them until they are. Also the small oxygen cylinder from our medical kit needs to be refilled (the expiry date was last year), and that looked a problem. BOC over here quoted 6 to 8 weeks - not good! But luckily we found another company in Auckland who say they can do it in a week or two, so we've sent it off and fingers crossed that it comes back in time. And of course all the medicines in the kit are past their use by date, so they have to be re-ordered. Other jobs include re-sealing the gas locked, varnishing the dinghy oars, changing the engine ignition switch, making canvas covers for everything that will be stowed on deck, testing the outboard motor and servicing the generator (neither have been used for a year). Our life is ruled by lists again, lists of things to do and lists of things to check - but they are getting shorter, just!
The weekly farmers market at Mount Maunganui. It's only a couple of miles from the marina - no time at
all in the car. We came away with local honey and local smoked cheese.
Not windsurfers and not surfboards, but stand-up paddle boards. There are a lot of them about in NZ.
Mount Maunganui from the harbour side ........
....... and the Mount Maunganui beach from the seaward side.
The Hidden Valley thermal park.
Lots of boiling water, steam and sinter (whitish encrustation of silica, deposited from the hot springs).
It could be snow, but it's sinter again.
Quite spectacular colours.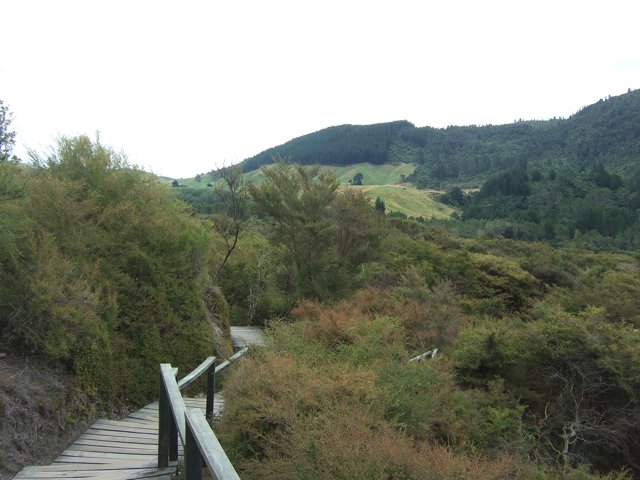 Typical hilly landscape of the North Island (Hobbit country)
And lots of tree ferns everywhere.
Trying to take the perfect frond, and ......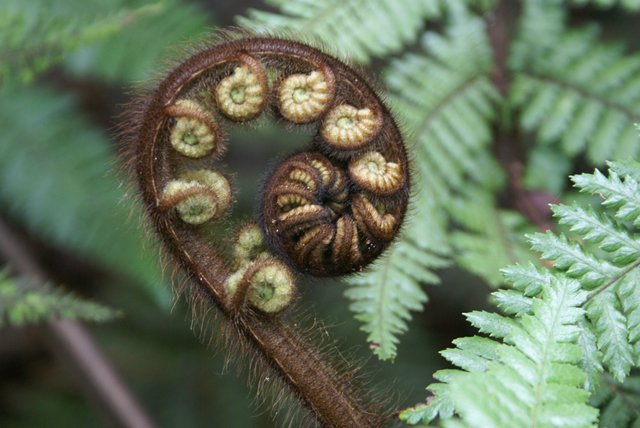 ..... the end result.
Not a place to wander off the path!
On the way to Auckland - the plain opens out on the other side of the Kaimai range of hills that surrounds
Tauranga on the landward side.
More Hobbit country.
The Auckland Harbour bridge. You can get all kitted up with safety harnesses and walk up over the top
of the steel girders and over the bridge. Maybe next time!
The Auckland skyline, all packed alarmingly close for a 'shaky country'. Sky Tower is the tallest building
in the Southern Hemisphere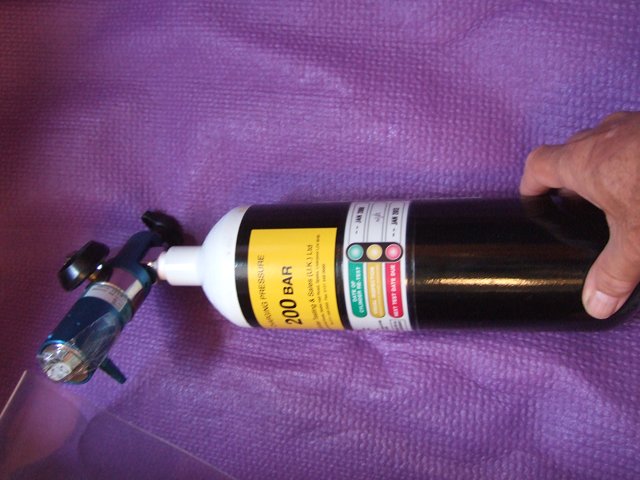 Such a small oxygen bottle for BOC to quote 6 to 8 weeks to fill it!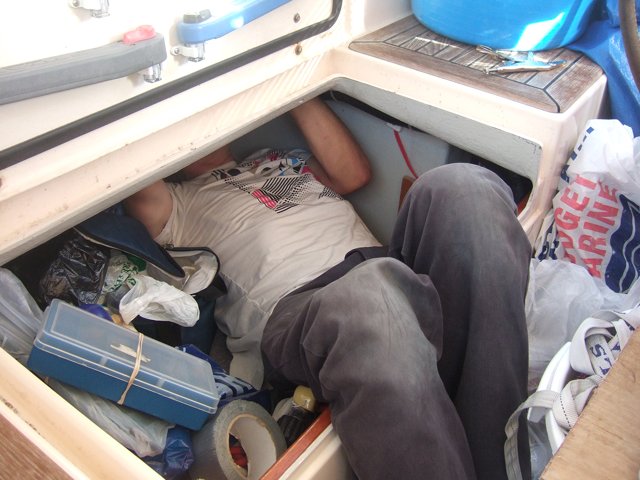 Not an easy locker to get into and a darn sight more difficult to get out of! Fitting the new ignition switch
in the back of the engine control panel.
The view from inside the locker - now where's the ignition switch?
---