Carriacou - June

Aurora_b
Mike and Liz Downing
Mon 1 Jun 2009 16:07
Leaving Saline Bay on Mayreau we had to clear customs and immigration to leave the Grenadines to go to Carriacou, a small island still within Grenadines group of islands, but under the control of Grenada, 32 miles to the south. Clearing customs and immigration in the Grenadines when going south has to be at done at Union Island a few miles from Mayreau. Clifton Harbour is the port of call on Union and we always have fun and games there. It's a completely open harbour just protected from the sea by a large, almost circular coral reef with a gap to get in and out. The wind is always strong and there's not a great deal of room. Boat boys always hassle you to take one of their moorings (which are not reliable) and, if you can find a spot to anchor, it can take a few times to get the anchor to hold, and then it's not far to the reef if you start to drag. So it's not one of our favourite places! However, it is very pretty - the water colours over the reef are fantastic. To clear customs and immigration it's a trip ashore and a walk up to the very small airport where they are located. We were in and out in about 2 hours and then on our way again to cover the few miles south to Carriacou, anchoring in the main town of Hillsborough to clear in - customs and immigration again! Having completed that, the anchor was raised again to sail round to the main yacht anchorage at Tyrrel Bay.
Tyrrel Bay as a squall goes through,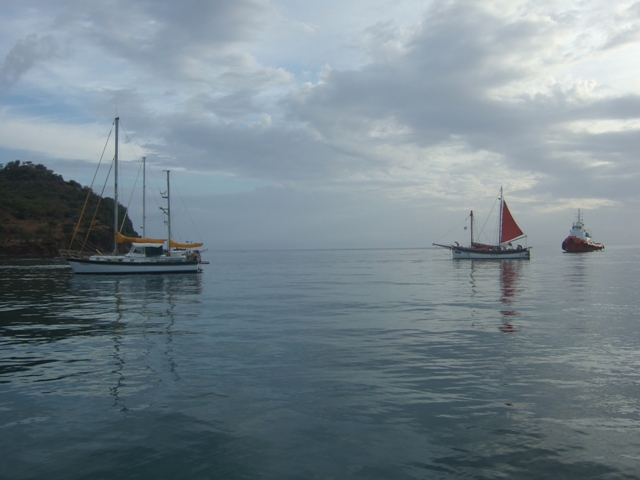 And again after the rain has stopped.
We don't get spiders in our sinks............................ unlike spiders, this did actually crawl up the plug hole!
A rum shop on the main road along the bay.
Above and below - main roads at Tyrrel Bay.
---