Galapagos - San Cristobal

Aurora_b
Mike and Liz Downing
Sun 21 Mar 2010 20:54
Kicker Rock is about 15 miles up the coast and the main dive site on this island. The right-hand side of the rock is separate and there's a channel between it and the main rock. The dive goes down to the floor of the channel about 20 metres down and the sea life seems to be constantly moving back and forth through the channel. The sides of the rock are vertical and apart from the channel just keep on going down. There's quite a lot of current and when looking for Hammerhead sharks on the second dive, it was necessary to hold on to the rock to stop being swept away. We did see just one hammerhead. On good days you see lots - so we were told!
Kicker Rock - they don't skimp on the engines of the dive boats here. The boat was not big, but had 2
200hp outboards.
The channel between the rocks.
Doing my check-dive - there were 7 divers and we all did a basic check dive on the coast before heading
out to the rock.
We found a huge shoal of fish when snorkeling on the south of the island. The picture doesn't do it justice
as there were hundreds of thousands.
Looking up through the shoal.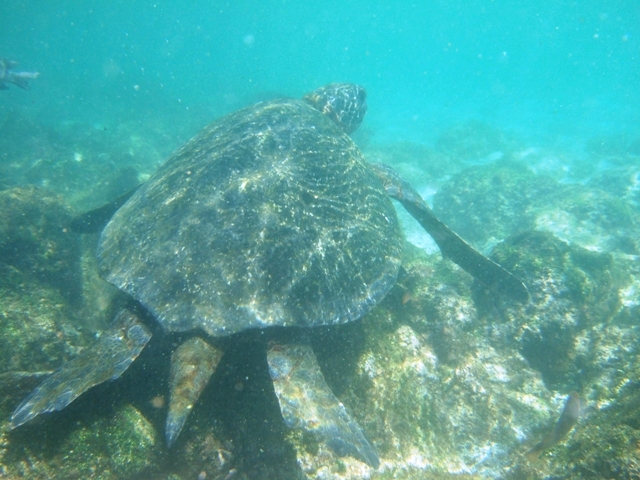 We also found several turtles just resting on the rocks at the bottom of the shallows.
Heading to the surface to breath.
The anchorage is open to the west, so we get good sunsets from the boat.
This is the only one anchorage on the island and is at Wreck Bay. Boats are not allowed to anchor anywhere else around the island. There are quite a lot of local fishing boats here, about 20 yachts and every day we get 3 or 4 tour boats in. They are live-aboard tour boats for up to about 20 people and tour the islands for 4 days or more, depending on the package you buy. They are not cheap, 4 nights on board can cost anything from $750 to $2500 per person, depending on the boat. All the tour boats are based at the island of Santa Cruz and the one anchorage there is supposed to be full of them. The anchorage there is also very rolly and every boat has bow and stern anchors to keep the bows into the swell. The anchorage here on San Cristobal has been pretty good - so far very little swell has come in. We are quite a way from shore, with just the 2 boats in the photo above being behind us. Getting to shore is not a problem as there are small water taxis running all day and are only 50 cents during the day and $1 in the evening. No one uses their dinghy as if left it would very quickly be taken over by sleeping sea lions!
---