Grenada - Port Louis marina and St George's

Aurora_b
Mike and Liz Downing
Fri 12 Jun 2009 13:08
It's about 33 miles from Tyrrel Bay in Carriacou to St George's, the capital of Grenada. With flatish seas and about 15kts of wind just ahead of the beam, it was a cracking sail all the way to the entrance of the harbour. St George's is one of the prettiest of the harbours in the Caribbean with good looking brick buildings surrounding the carenage. The olden day ships sailed to Europe fully loaded with Island goods and when returning empty they carried the bricks as ballast. Camper and Nicholson are building a new marina complex in St George's harbour and the first phase, the superyacht pontoons were opened earlier in the year. With the economic slow down, not much building seemed to be going on and to encourage boats to stay they were offering cheap rates. It wasn't really working with only one boat in the marina, so we decided to be a mini superyacht and they allowed us to moor on one of the long pontoons.
Port Louis marina's new swimming pool - not big, but big enough for us as we had it to ourselves most of the time.
A smooth trunkfish visited us most days swimming between the boat and the pontoon in the marina.
This large Dutch yacht moored the other side of our pontoon - and blocked the wifi signal!
Our American friends on the Catamaran Angel Louise (just visible in the left of the picture) joined us a week later, followed by the Dutch superyacht which moored next door! Having planned to stay only a few days to visit St George's, an engine part broke the day after we got there and we lost all our coolant in the bilge. It took 10 days for a new part to arrive, but Port Louis wasn't a bad place to stay, looking towards the town and the harbour.
The marina is so new it was virtually empty.
Above and below, Port Louis marina.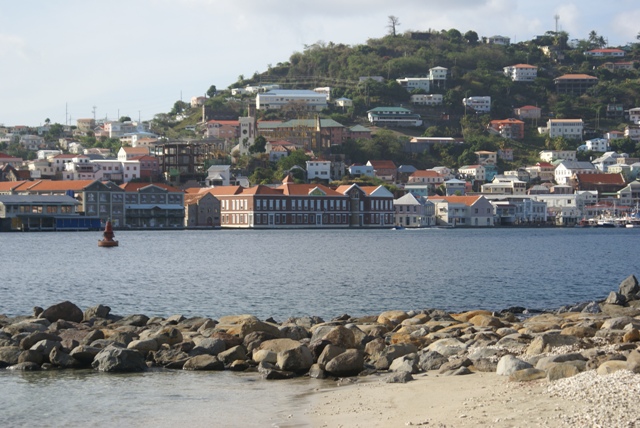 The waterfront at St George's is just opposite the marina.
Another view of the waterfront in St George's.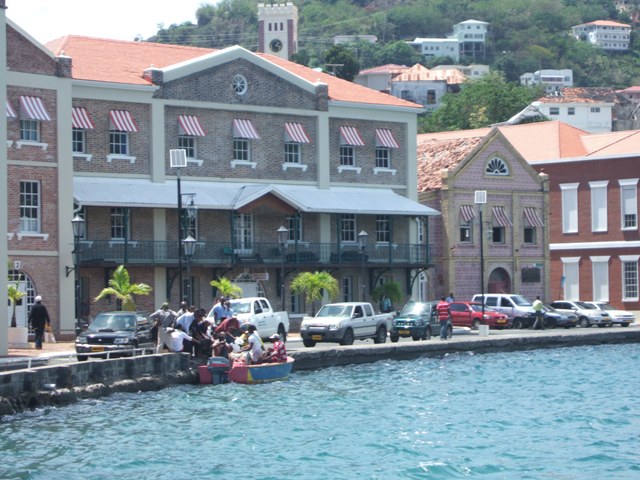 The waterfront again - local fishermen sell their very fresh fish from their boat at the dock.
One of the roads in the middle of St George's
St George's commercial dock, opposite the marina (that's the marina pontoon on the left).
The anchorage outside St George's harbour.
A short walk from the marina takes you to the main anchorage at St George's. We anchored here after leaving the marina before going round to Prickly Bay on the south coast in preparation for the passage to Trinidad.
---