Merry Christmas!!

Aurora_b
Mike and Liz Downing
Sat 24 Dec 2011 23:15
Merry Christmas from New Zealand! It is quite Christmasy here, despite it being summer. O Little Town of Bethlehem is not just a carol, but a little town no more than 5 miles down the road - we drive through it whenever going to Auckland. And before reaching Bethlehem, we have to drive through Judea! It does seem quite strange. Being summer it doesn't get dark in the evening until after 9 o'clock in the evening, so there are no Christmas lights, but the shops are decorated for Christmas and all have Christmas sales - they started early in December! Everyone's hoping for good weather to spend the day in the sun. Christmas Eve was sunny and hot, the best day in weeks, if not months. As the turkey is cooking in the oven, Christmas day is looking okay - overcast, but dry. The Queen's Christmas Speech is broadcast here at 6.50pm and NZ is the first country to see it. Up until yesterday we hadn't heard any carols, so with the help of iTunes found an album of 15 carols, appropriately performed by the Guildford Cathedral Choir. It wasn't until the download was underway that we realised it was actually a collection of 75 carols - we now have more than we will ever play!
The weather has been true to forecast - the week before last was wet, very wet, across the whole country. In Nelson, on the north end of the South Island they had the worst rain storms for 50 years, resulting in many landslides cutting off towns and villages. A State of Emergency was raised and is still in force - another natural disaster to add to the list for 2011! It certainly wasn't painting weather in Tauranga, so little progress that week. Last week was better - 2 dry days and the rest showery. Not perfect, but antifouling has started and 3 coats of the middle layer is complete. The main antifouling will go between Christmas and the New year, we hope, weather permitting. The forecast is for 3 days of cloudy, but dry days, followed by rain again. A tropical low is heading down towards the North Island and the Tasman Sea. So it will not only be wet, but very windy too.
It's been a hectic week in the boatyard as there's been a rush to get boats back in the water for Christmas. Having been crammed full at the beginning of the week, it's now 70% empty!. The boatyard team are on holiday so it will be quiet until they return on 5th January. An empty yard has it's advantages - it means we will have the pick of any scaffolding and lots of space to lay things out. It also means we won't be woken up by the travelift moving boats - they start very early!
Having suffered from all the recent rain, Christchurch had 2 more significant aftershocks the day before Christmas Eve, causing more damage and flooding. Apart from winning the Rugby World Cup, 2011 has not been a good year for NZ, with earthquakes, tropical storms, landslips, a tornado in Auckland and the biggest marine disaster with the Rena going aground outside the harbour here in Tauranga. Everyone hopes 2012 will be a much better year!
The New Zealand Christmas tree - Pohutakawa - is now in blossom everywhere.
A bit like a bottlebrush.
A dry day and the flags get a wash and dry - most are courtesy flags that we have flown when entering
the territorial waters of a new country.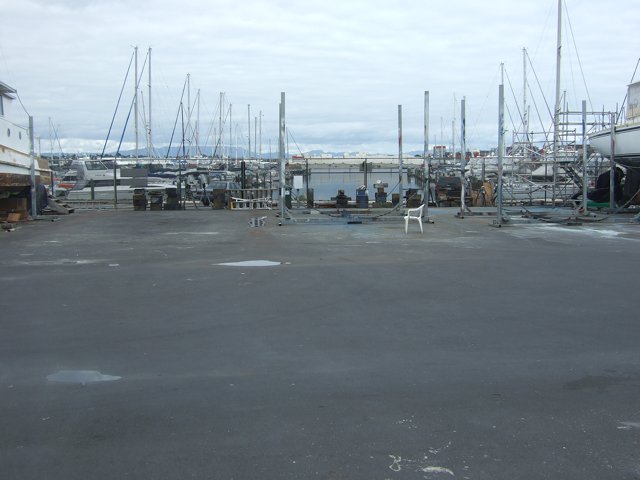 Empty spaces in the boatyard, overlooking the marina.
Antifouling has started - the dark blue. We have to let this harden for a few days before putting masking
tape on it to paint the white antifouling line above it. But we can get on and paint below it, but not until
Boxing Day!
Logs being transported by rail. Most seem to go by road with many log lorries passing by every day.
Note the lack of any fences between the road and rail track.
Coloured fish on the streets of Tauranga - they're by most road drains.
Walking into Tauranga on Christmas Eve - it was a rare hot and sunny day.
---