The Start of Autumn and Easter

Aurora_b
Mike and Liz Downing
Thu 28 Mar 2013 12:24
Autumn started as summer ended - wet and windy! The strong winds reached their highest here on the mooring at 37.6kts. Coming from the south, rather than southeast, Scotland Island didn't give any protection. Apart from keeping us penned below, the strong winds gave no problem. Not so for one of our cruising friends who left port further up the coast and got 'locked out' (being out at sea when all the bars close due to high swell) forcing them to take the bad weather at sea - force 10 winds and 10 metre seas. Having been hove to for 30 hours and been knocked down (mast spreaders in the water) several times, there was a break in the weather and they made port (surfing in on the back of a 5 metre wave!) feeling battered, but very lucky to have survived. If you are unlucky and conditions conspire against you, this coast can be very unforgiving.
Shortly after that we had the final fitting of our cockpit curtains and the weather did definitely improve! We've still had a lot of days with rain, but mostly showers rather than prolonged heavy rain. This week leading up to Easter, is the first we've had with a forecast of 4 consecutive dry days. However, we have had dry days and made progress on the deck. With all the rain, mildew had started to form and it was not looking good. But we still had enough wonderful Boracol (a wood preservative) left to treat it. (It was the last of the batch that we had arranged to be sent out from the UK to the Caribbean on the Geest banana boat. We've carried it all this way.) 10 days after treatment and a really good scrub on hand and knees with soap and lots of water (the old green fairy soap is the best and we went into one of the marinas here to get access to lots of water), it's come back up and looks really good again. With the dry conditions we want to give it a light sanding to remove ridges that occur in some planks, replace some of the caulking between planks and replace all the remaining screw caps (dowels, bungs), having replaced 80 or more a week ago.
Other successes: Our dive tanks finally came back filled (new valves that meet the Australian standards having been sent out from the UK), our new staysail furler is now working (had to have the riggers back several times to fix things - it shouldn't have been that difficult) and our converted staysail came back last weekend and is on the furler. Just have to get the storm jib converted and then that's all done. We have a new dinghy which is bigger, but as a result it had to be totally inflatable so we can stow it (rather than the rib (rigid bottom) that our existing dinghy has). So to protect the soft bottom we have imported some wonderfully horrible wheels from America. They look horrible, but work wonderfully well (luckily we can take them off when not needed!). We just have to decide whether to get rid of the old dinghy or keep them both (along with the Avon dinghy that we bought in 1980 and is stowed in the forepeak locker) - 3 dinghies is excessive, but which is to go? Minor repairs have been made to our working genoa and our mainsail and outer genoa are both with the sailmaker here to check over. We want them in top condition for the passages ahead. We've bought a number of gadgets from the States and the UK - we found that we could import things, paying for shipping, but still save significant amounts compared with buying things here. In addition to looking after the boat we've both had health check-ups (with the reciprocal agreement that exists with the UK, seeing a doctor and some treatments/medications are subsidised and are free or not too expensive). With new pills and potions we're getting ourselves ready along with the boat.
So things are coming together. Originally we had thought we would start heading north at the start of April, but with still quite a bit to do, and having studied the pilot charts (used for route planning) in more detail, it makes more sense to stay here until the start of May, when we hope the work will be done and more favourable winds should come along (should this weather ever decide to follow what's expected of it!). The cyclone season officially comes to an end on the 1st May and the predominant winds on this coast in May and June should be from the south, southwest or west, much better for going north along the coast, especially as we will have to sail against the current that help us so much when we came south. Also, winds from the west should keep the bars down and make them easier to cross (we hope!). We have decided that it makes sense to have the boat hauled out somewhere (hopefully for only 3 days or so) to check everything under the water that we had done in New Zealand, touch-up the antifouling (the Micron 66 seems to be standing up well, but the Ultra on the waterline is struggling), grease the rudder bearing and change all the anodes. Finding the best place to do it (here, Brisbane or further north) is taking a lot of research and organising. It would be good to get it all done here, but it's expensive and we need to shop around. Like New Zealand, it's all back to front (or upside down!) compared with the UK - being on the hard costs a lot more than being in the water. One of the marinas here in Pittwater with a big enough hoist to lift us charges $210 a day - that's about £140! And that's just for being on the hard, it doesn't include the lift out and back in.
Another job was ticked off this week - servicing the generator. It was a full service and it all went well until test running it afterwards when we found that the repair we had made to the heat exchanger in Fiji was leaking again. Our repair was only a temporary repair, but we had begun to think (and hope) that maybe the temporary repair might be permanent. But it was not to be. The good news is that although well out of warranty, Mastervolt had sent us a new heat exchanger free of charge, as the failure was due to a production fault, and we had picked it up when in Brisbane, so have it. The bad news is that it's a horrible, almost impossible, job to get the heat exchanger out and back in. Hope we can do it a second time.
One job we really do enjoy is planning routes, reading all we can from pilots and the Internet, and deciding which charts we want to buy. We'll have electronic charts to cover the way ahead, but like to have paper charts for the essential corridor being followed. Admiralty software helps in choosing charts. It makes it relatively easy to decide which would be good to have, but it takes several iterations to get a good compromise between what we would like to have and what we are willing to spend. There's not a lot of difference between the cost of buying charts here and ordering them from the UK and getting them sent out, so we're looking forward to spending a day in the chart shop in Sydney getting what we need - there's just something about paper charts. Even after all this time I still find them fascinating.
Easter is now here and like home, Easter Eggs have been in the shops for weeks. The shops were crowded today with everyone getting all they need for the holiday. The northwest wind brought warm temperatures again today, but the forecast suggests a return to showery weather. It's raining as I'm writing, but it's supposed to stay warm. We have a month to get everything done, so hope the showers will miss us!
A few pictures of our location and some of the work done on the boat, but first a few pictures from the Blue Mountains that we didn't have when reporting on our visit there.
A few locals that we bumped into in the Blue Mountains! (That's not including Janice and Clive
who were with us.) An Aboriginal cultural event in Katoomba.
Official picture of the scenic cableway down to the canyon floor. It was so foggy when we
went down we had no idea of height as we descended into the mist.
Not unlike our picture, but the light on the 3 sisters makes this just a little better!
The scenic walkway through the temperate rainforest, when it's not raining! It doesn't have the
same atmosphere as ours, but it shows what it can be like.
Up the mast again! Wanted to check a few things and lubricate the main halyard sheave to get
rid of a bit of a squeak when hoisting the sail. Later we had the rig checked by a professional rigger.
Old dinghy in the water, new dinghy in the davits, and Liz sitting on the foredeck.
Views of Scotland Island from the top of the mast, with houses along the waterfront and buried
in the trees.
All come with their own jetty. The ferry that passes very close to us several times a day is at
one of the communal jetties.
Looking across to the mainland. Every bay is filled with moorings.
Looking across to Church Point where there's a good cafe/restaurant, small store and a bus stop
where we catch the bus to Mona Vale, Manly or, if we get up early enough, Sydney (the last
one leaves for Sydney at 07.30 am!).
The commuter dock at Church Point - full of 'tinnies' bashing each other to bits every time a boat
goes past and there is any swell. As they say, it's not 'rubber duck' friendly. So we're keeping our
old dinghy and use that whenever we have to leave a dinghy here. It's small enough that we can
generally find a slot somewhere between all these.
Flowers that we don't see at home. This is a Grevillea.
And another.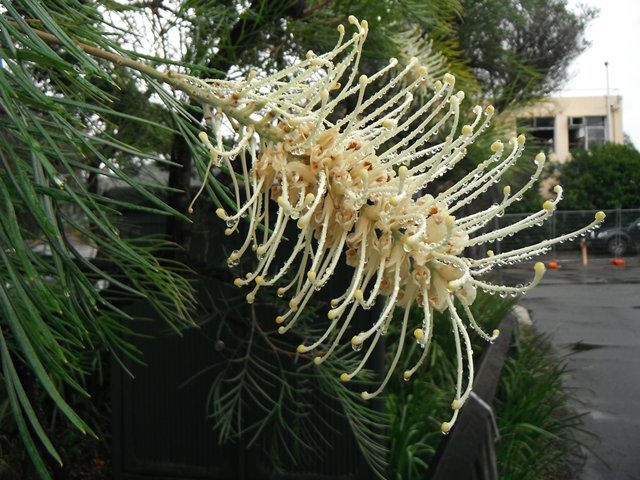 No, it's not nectar, just rain!
New cockpit curtains (with the protective coating still on the clears) that attach to our existing
bimini and enclose the cockpit, creating our very own conservatory.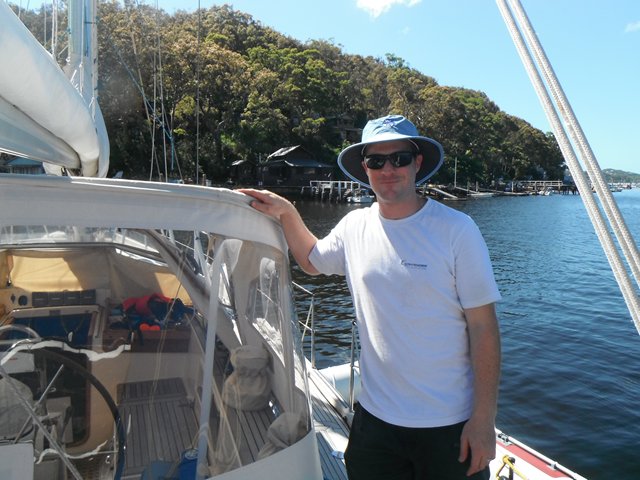 Another Jonathan - this is the one from North Sails who made the curtains.
The new Harken staysail furler - that makes three!
A visitor - a Welcome Swallow.
Another couple of visitors - Sam and Finn from the yacht Bonaire. We were in the marina getting
a few things done when they came past with their dad, Tim. We hadn't seen them since June
last year. We were the only yacht at the island of Matangi on the east coast of Fiji when they
came in to join us. They're from Hayling Island, just down the road from us in the UK (relatively
speaking).
Before and after - the start of the deck work. The left bit is done, the right bit is still to be done.
We thought we would experiment with the aft cabin top as it's not too big (and not so expensive
to replace if we make a mess of it!).
---