Sunday 20th February - Kaikaura to Springfield

Aurora_b
Mike and Liz Downing
Wed 23 Mar 2011 09:23
Having stayed 2 nights at Kaikura, it was south again towards Christchurch, but turning west before we reached it to head inland towards the Southern Alps and Arthur's Pass. The Alps run down most of the length of the South Island on the western side. From Christchurch the only way through the Alps to the west coast is via Arthur's Pass, but we decided to stop for the night in the foothills of the Alps at a very small village called Springfield and drive up into the pass the next day. Our aim has been to drive approximately 100 to 150 miles each morning and arrive around lunchtime or early afternoon, depending on how many photo stops we make along the route, and then explore the area on foot if we can, or by car if we can't. So yet another different motel - with just 3 units this time, so it's very quiet and the star attraction is a field of 7 alpacas (like lamas but a bit smaller and a lot cuter). The other attraction is the railway line that runs right next to the motel - the transalpine railway which carries the transalpine express - a scenic train ride through the Alps from Christchurch on the east coast to Greymouth on the west coast. It has special viewing cars, but only runs once in each direction per day. So we stood by and waved as it went passed and, a bit like the Railway Children, the passengers waved back!
A braided river we crossed close to Springfield. A braided river is formed when the rivers come down
from the mountains and in flood bring lots of broken rock and stones that get left when the river slows
down. The river then weaves it's way, sometimes in many channels, through the rocks and stones. NZ
has many very wide braided rivers.
Our motel - just 3 chalets!
The Alpacas at the bottom of the garden - very inquisitive and intrigued at us new arrivals.........
...... and cute too!
A planning meeting of the executive committee! Where do we go next then? The alpacas had lost
interest by this point!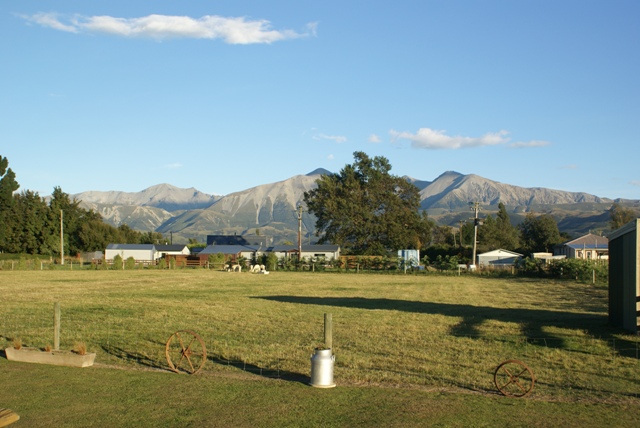 Not a bad view from the chalet verandah! Alpacas in the foreground, Alps in the background.
The Transalpine train - 2 engines are required to haul the train across the Alps over Arthur's Pass, taking
it from Christchurch on the east coast to Greymouth on the west coast and back again.
Open and closed passenger carriages give passengers a great view.
---