Manta Ray Bay - Naviti - 17 10.263S 177 11.248E

Aurora_b
Mike and Liz Downing
Mon 13 Aug 2012 05:28
We've made it to the Yasawa Islands - 'crystal clear waters with palm-fringed white sandy beaches, lagoons, coral reefs and idyllic places to stay' according to the brochure. It all looked good on our trip on the Flyer and it looked good as we passed some of the islands on the way up. Naviti is about one third of the way up the island chain and it was a gloriously sunny day, not a cloud in the sky all day. Just what you want for reef spotting. Unfortunately it couldn't be all good as the wind was well north of east, so just off from being on the nose. But it was not too strong and the seas were right down, allowing us to motor sail and it was a lovely passage up, of about 44 miles. Again we made a lot of use of Google Earth and information from other yachts who have been here before to plot our course. We also used walkie-talkies for the first time, with me reef spotting on the bow and Liz watching at the helm while the autopilot steered the course set in the chartplotter. We bought the walkie-talkies back in Las Palmas in 2008 for communicating when one of us goes ashore, but found the hand-held VHF was more effective (although not strictly legal) and haven't used them since. But when the distance is short, like bow to cockpit, they work really well. All we need now is a couple of waterproof headsets so we can use them hands-free and they would be good for anchoring too.
Manta Ray Bay was the destination as we wanted to check it out while the winds were still light. There's a narrow pass between the southern end of Naviti and a small island to the south where the current passes over a shallow stretch. Manta rays come to feed there at this time of year and it's possible to get in the water and swim with them. Having swum with sharks in the Galapagos and humpback whales in Tonga, we wanted to have a go with manta rays. There's an anchorage just south of the pass where we could anchor safely in a south easterly and that's where we are. However, we've not been lucky with the manta rays. Yesterday afternoon, again this morning and this afternoon,we spent about 1 1/2 hours in the dinghy each time, motoring to one end of the pass, cutting the motor and drifting back through with the current and repeating the process, along with several other dinghies from yachts (there are 4 others anchored close by us) and boats from the 3 resorts tucked away in this area. These had 6-10 people on board, all waiting to get in the water with the rays. But the rays didn't show and the winds are forecast to come up again later in the week, so we're heading off tomorrow. If we're lucky we may be able to stop here on the way down and have another go. The Manta Ray resort is not too far away from the anchorage and reef in front of it was full of fish that we haven't seen that often, so it made up a bit for not seeing the rays.
The spot where we're anchored and manta ray pass to the north where we waited and waited
and......waited! The pins are waypoints that we put in to get to this anchorage and other
possible anchorages in the area.
A lovely sky as the sun goes down at Manta Ray Bay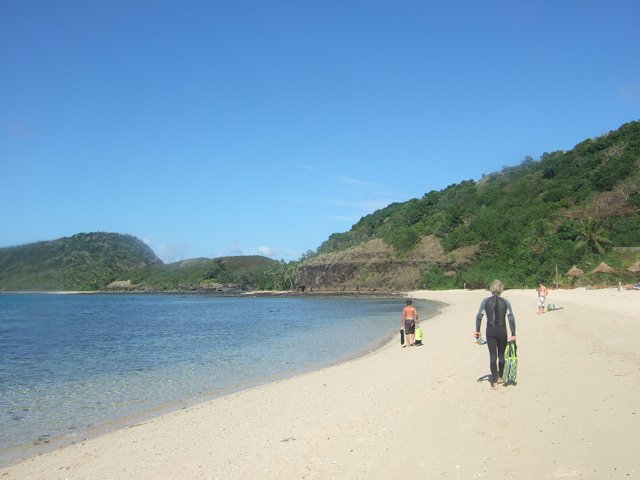 The beach at the Manta Bay resort with a lovely reef just visible in the water.
White-barred triggerfish.
A big clam.
Don't see these that often - a moray eel being cleaned by a brave cleaner fish!
And this is the first time we have seen one of these - it's a sea snake, called
a sea-krait and it's going up for air. They're highly poisonous, so you don't get too close!
Oriental-sweetlips
Not a good quality picture, but it was a huge titan trigger fish, 2 ft or more in length.
Snappers
Two-lined-monocle bream
saddled butterflyfish
And fish that we do see a lot of.
---