Heading North - Coffs Harbour 30 18.19S 153 08.76E

Aurora_b
Mike and Liz Downing
Sun 23 Jun 2013 04:07
The winds continued to provide an ideal sailing wind of 15 to 20kts from the southwest. The seas still churned with white horses in every direction, but apart from looking aggressive, never caused a problem, and the swell was starting to ease a little. So we continued to sail all day and make good progress against the current. But then the updated weather forecast at 16.00 came out and that changed everything. For some time some forecasts were showing a deepening low in the Tasman sea that was heading for the coast and producing exceptionally strong winds - 40 to 60kts! The forecasts suggested it would be south of our position, but we might still 25-30kts from the east and possibly northeast. By the time it would arrive, we might have outrun it by adding another 100 miles and be clear of it's influence, so the initial decision was to keep going. But then we thought a little longer. It is after all just a forecast and they do get it wrong here (it's a difficult area to forecast) which is why they always add that the wind gusts can be 40% greater than forecast and the maximum wave height can by twice the height of the forecast (hedging their bets just a bit!). If they're just a few degrees out in it's track the system may come further north and being just 15 miles south of Coffs Harbour (the only safe haven for 100+ miles in either direction) it was an easy decision to head there and let the low pass. However, it did mean going into a new harbour after dark, but having a big outer harbour, the full moon floodlights on, and having all the navigation aids we have, we thought we should be able to make it okay. As we approached, about 2 miles out, the lights of the town completely disappeared twice as two huge swells rose before us and blocked everything out. That did make us nervous and we had everything crossed that we wouldn't get one of those just as we were going in, and luckily we didn't. Swell was coming into the outer harbour so anchoring was not such a good idea (too much rolling), so it was off to the marina in the northern part of the outer harbour. Unfortunately it appears the marina is closed from 13.00 on Saturday until Monday and couldn't cope with a yacht coming in at 19.30 on Saturday! So we ended up being allocated one by phone and it was one of the worst berths we have had for many a year, being against piles (a bit like Poole Harbour before the marina). The result was that one of us had to be on watch the whole time to adjust line lengths and fenders. So it was 2 hours on and 2 hours off throughout the night. At 09.00 this morning a member of the marina staff arrived and allocated a normal floating pontoon berth. Not the best start to our first time in Coffs, but today turned out to be a beautiful day - bright sunshine, blue skies and quite warm for the time of year, just right for joining the other Sunday morning walkers going up Mutton Bird Island to look out to sea for whales.
The passage from Newcastle to Coffs Harbour was 190.6 miles, so with the 50 or so miles from Pittwater to Newcastle, we've travelled about 240 miles north. We still have a very long way to go!
A few pictures of Coffs, but first a few of a very grey day in Newcastle.
Bleak! The empty beach at Newcastle. The day we didn't go!
Having been told of the high swell we had to go and have a look ......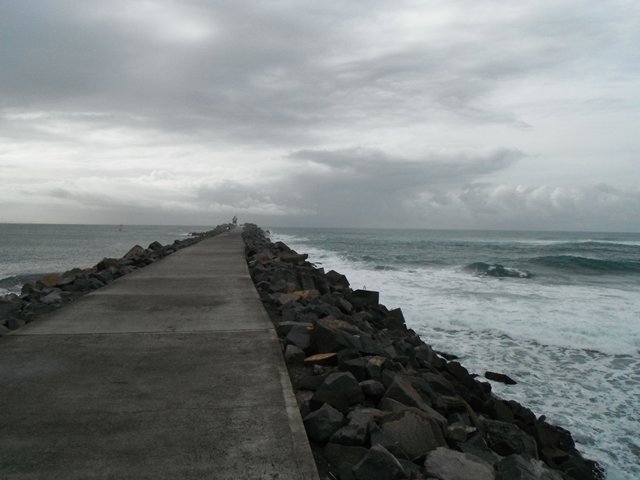 ............ at the end of the breakwater.
Several of these intricate stone carvings lined the breakwater.
A fully loaded ship heads out and north back to Asia (apparently none of the ships ever go south) and ......
....... an empty ship arrives.
Not the warmest of days!
That's much better - the sun came out at Coffs Harbour.
Taken on Mutton Bird Island that's been joined to the mainland by the breakwater, allowing
the marina to be built in sheltered waters.
Looking across the rest of the outer harbour with the tall ship rolling from side to side as the
swells roll in.
The whale watching platform at the tip of Mutton Bird island.
On our way back to the marina having spied a few whales blowing and breaching, but well offshore
and too far out to photograph.
---