Viani Bay - Corals on Rainbow reef

Aurora_b
Mike and Liz Downing
Fri 8 Jun 2012 08:27
A week in Viani Bay and hope to stay a while longer. Had to move anchorages a few times as the wind does change direction quite a bit - South and SSE to start with, then SE for a few days, a bit of East. Completely out of the blue it went North, gusting to over 20kts, went back to East, then NE and now back to North. It's forecast to be back in the SE tomorrow, but we could get some NW next week. While still in the north of the bay, we're in a more central position, to try and avoid backing too closely onto the shore, and all the fringing reef. Luckily, raising them very slowly, the anchor and chain came up okay on each move. Others have had problems and one had to send a diver down.
The bay is still very quiet with one or two boats leaving every other day or so and the same number arriving. There about 8 in here at the moment and 3 are leaving in the morning. The last couple of days we had company from two boats we met in 2010, one we first met in Panama. They had time constraints and had to move on. There's another boat here that we met when crossing the equator in 2010 - a sail appeared on the horizon, called us to congratulate us on moving from the Northern to the Southern Hemisphere and then disappeared again. That was thousands of miles away - but it's a small world when you're sailing.
The snorkeling and diving on the outer reef here is excellent. It's particularly known for the amount and diversity of soft corals. A local Fijian family owns all the land around here and Jack, the head man, has been guiding snorkelling and diving trips for very many years - he knows all the places to go. Arrangements are normally made for one yacht (preferably a catamaran - they can carry more people) to go out and anyone in the bay wanting to go is invited aboard. Jack takes the helm and negotiates the 3 miles or so out to and through the reef to the dive/snorkeling spots. My leg has still not healed sufficiently to go in the water - shins are one of the slowest parts of the body to heal as they get little blood supply - but Liz has been 3 times now and got some good pictures.
Sea fans: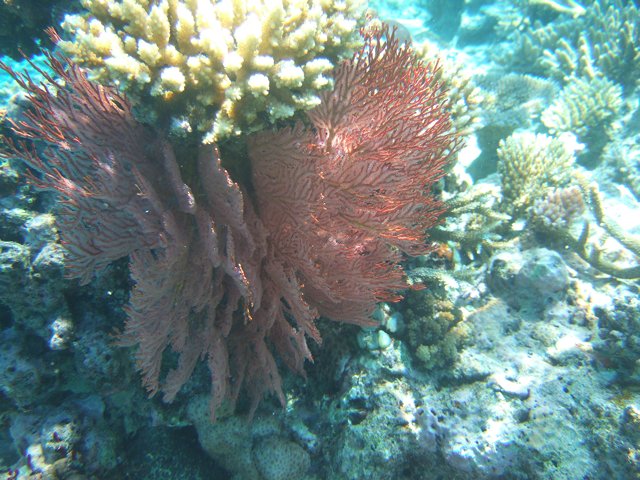 Soft corals (red and pink):
Plate corals: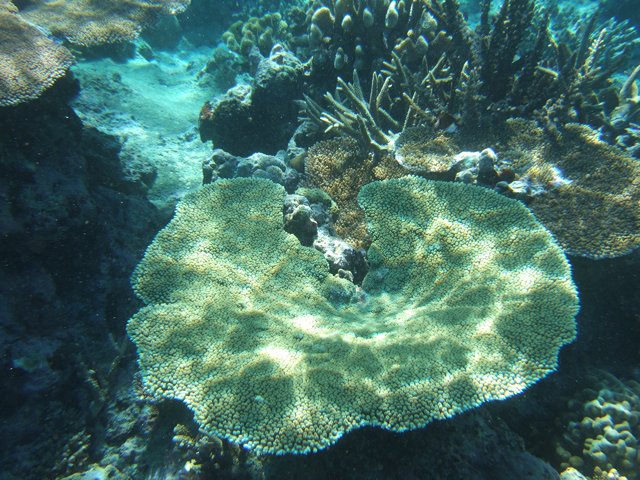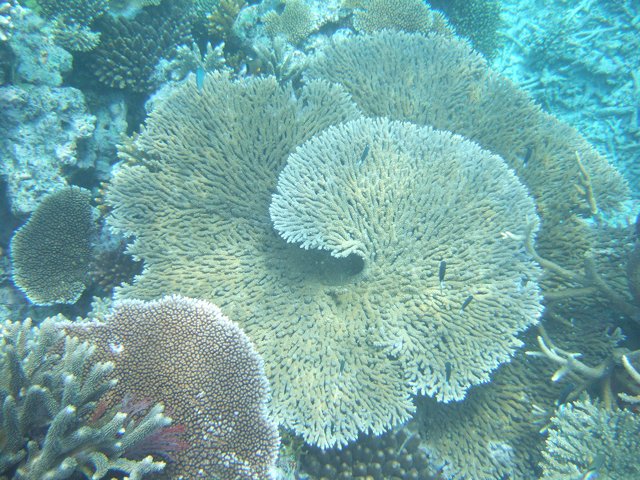 Other corals: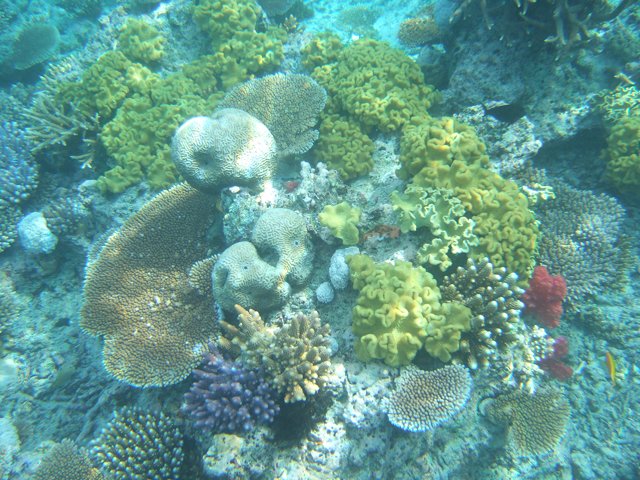 ---