36 36.80S 175 47.07E - Mercury Islands

Aurora_b
Mike and Liz Downing
Fri 30 Mar 2012 10:03
The anchorage last night on Slipper Island was so peaceful compared with Tauranga. We had it to ourselves until late in the evening when a motor boat arrived. It was just the two of us for the night. While well protected from the weather, the swell did manage to find a way in and it was a little rolly, which no doubt has helped us acquire our sealegs. Our passage north continued again today, but it was only 30 miles, from Slipper Island to Great Mercury Island. The sea was again swelly with a lot of white horses, but the wind was directly behind, so two poles went up from the start, supporting both genoas. The poles make a huge difference in holding out the sails and stopping them collapsing on every big wave that rolls us, and as a result the boat goes a lot quicker and is more stable. We used this setup for the whole passage, making anything from 6 to 8.5 kts and it was a cracking good sail, especially going through the 5 miles of the 'Hole in the Wall' passage at more than 8kts (see picture below).
Great Mercury Island is a lot bigger than Slipper and there are several good anchorages. With the winds in the east, we're in White Beach on the west coast. It's about 1 1/2 miles long and we're sharing with just 5 other boats well spaced out along it. It's a shame we couldn't go ashore to explore, but with the big storm still threatening next week, we're on a fairly tight timeline to get somewhere secure and safe.
Old Man Rock - in the middle of the 'Hole in the Wall' passage. It's a whole lot bigger than we had thought!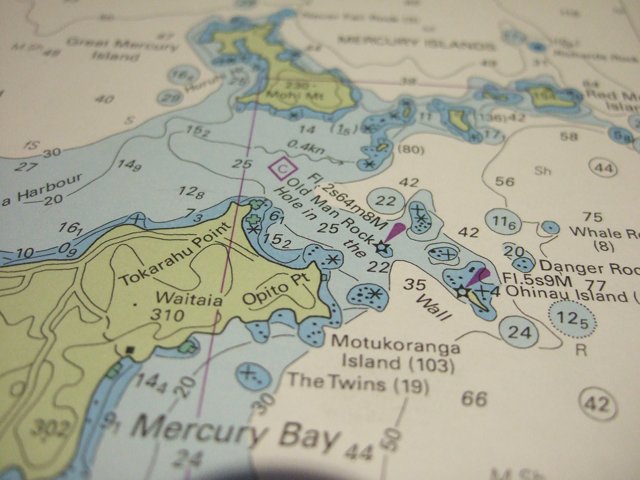 The 'Hole in the Wall' passage, with Great Mercury Island top centre.
The entrance to White Beach, our anchorage for tonight. It's well in the lee of the winds, so the water is calm.
The view from on board having anchored.
Our nearest neighbour on the starboard side.
And our nearest neighbour on the port side.
A great sunset to end the day, looking across from Mercury Island to the mainland.
---