A Lot of Maintenance!

Aurora_b
Mike and Liz Downing
Tue 30 Apr 2013 23:30
Another month has just flown by. It's been concentrated maintenance on the boat, including being hauled out of the water for 5 days to maintain the bottom. All the sails have come back from the sailmaker and the storm jib has been converted for use on the new furler, so that's all done. The weather has been better - April showers, just like home (but with the seasons going in the opposite directions!). The forecast virtually every day has been for the odd shower, occasional showers, a shower or two. Between the showers it's been quite sunny and sometimes the showers missed us and it was sunny all day. The last week has been dry and sunny all week, in fact the best week since returning from Sydney in January. So we've been able to get other outside work done, like replacing dorades and other vents. We even took the water deck filler off and rebedded it (replacing our temporary repair that we made in Minerva Reef when on passage from New Zealand to Fiji). According to one of the locals, autumn weather here is far more settled than summer and on what we've seen we would agree. Hope it stays that way and we might even be able to get one with some of the deck work that we had planned for New Zealand last summer (but that's probably hoping for too much!).
A major achievement was the replacement of the leaking heat exchanger on our generator. It's almost an impossible job (acknowledged as such by Mastervolt), but we found a way to do it and gave them the instructions to pass on to other customers. It seems they haven't had many (if any) other customers try it. It took two days and with reinforced conveyor belt rubber on the mounts and more held in place with jubilee clips on the heat exchanger itself we hope we have sufficiently cushioned it to last longer this time.
Another job that's been on the list for a long while is rubbing the companion way back to bare wood to be re-varnished. We've yet to discover an effective way of stopping the boat being covered in teak dust when doing this. No matter how we mask up, to get to the bits that need doing means it goes everywhere. So we've sort of given up trying and just relay on our good 230V vacuum cleaner to clear it all up afterwards (made possible using our generator as we're on the mooring buoy so have no shore power).
A good afternoon was spent at the Boat Book shop in Sydney - the chart agent with charts and all books maritime. We picked up electronic charts for our chartplotter and paper charts for the essential corridor that we would like to follow. If we go off that we use just the electronic charts, but if the electronics fail we stick to the essential corridor and our paper charts. It was a fascinating time checking all the different scales of charts, working out the coverage and deciding which to take. We went away with a heavy bundle of charts and a much lighter wallet! As always we came away with the UK Nautical Almanac for 2013, just in case we ever find that north facing anchorage with a clear sight of the horizon where we can practice our sun sights. It almost happened last year, at Port Resolution on Tanna in Vanuatu, but 2 boats moored directly to the north of us, one a 3 masted barque - a lovely sight, but not easy to see through! We were actually a bit short of time as well, so it didn't happen. Perhaps the passage north inside the Great Barrier Reef will provide flatter seas and the opportunity to practice as we go.
The haulout deserves special note. Having looked at most of the haul-out facilities from Sydney to Mackay (800 miles north) and phoned up many, finding them all very expensive, we found there was a reasonably priced one right on our door step, hidden away in the next bay, but just in view. It was at a very old slipway yard built of wood on the edge of the bush and full of old world character (and a few other things, like spiders and other creepy crawlies!). There's no road access, all the workers arrive and depart by boat. There's no electricity after the yard closes each day and at weekends, so to use the 'full of character' toilet needed a torch to negotiate a stair way and keep an eye on the spiders webs and other wildlife that comes out at night! So just a bit creepy! But the owner/manager was very helpful and had all the paint and other equipment we needed, just charging us for what we used (including the paint). They also set up staging around Aurora B at the right height which made it relatively easy to walk right round the boat - so much easier than having to climb up and down ladders. The owner/manager was a guy called Colin Beashel and it turns out that he represented Australia in sailing (Star Class) at 6 consecutive Olympic Games, winning a Bronze medal at one and carrying the Australian flag at another (Athens). He was also World Champion in the Star Class and was one of the crew on Australia II when Australia took the America's Cup from the USA for the first time in 132 years. So quite a celebrity, but you would never guess it talking to him - so down to earth. The original aim had been not to haul out at all until later this year, but the antifouling around the waterline had given up. The Micron 66 on the bottom had fared much better, but when she came out of the water it was clear that it was very thin and the whole lot needed doing again. So rather than a touch up, it was a proper job, ending up with 2 coats of Ultra round the water line, 4 coats of Trilux above it to give our 2 inch white line and 2 full coats of micron 66 on the bottom (with 3 or more coats on leading and trailing edges). So she's nice and clean and we hope she stays that way for a long time! In addition we were able to grease the new rudder bearing we put in in New Zealand, grease the Maxprop propeller, replace the propspeed on the propeller and bow thruster propellers and change all the anodes (we have 5). So a lot to do and to do it all in 4 1/2 days was quite an achievement. Generally we wouldn't finish until after dark, then get in the dinghy and motor 2 miles to one of the yacht clubs where we were able to have a shower and a meal and then motor back to the boat. All made possible with the new dinghy - we couldn't have done it with the old one (too small and too wet).
The weather has definitely changed. Along with the showers, it's really quite chilly from late afternoon onwards and the winds have eased considerably. There's rarely any wind at all overnight. During the day the winds are more from the west and southwest and less from the north. So that's all good news for going north. The target is to head for Darwin, just round the coast. Well actually, around 2,400 miles round the coast - this is a very big country! This will mean sailing up to the Great Barrier Reef (about 600 miles north) and along the inside of it for another 1000 miles, following in Captain Cook's path. We hope there will be good opportunities to snorkel and dive on the reef as we go. However, we still have quite a bit to finish off, like the varnishing (6 coats, one coat a (fine) day), putting a load more plugs (dowels) in the deck, servicing all the 9 winches we have, reorganising the stowage in the boat, trying to sell our old dinghy (according to Customs, if we are likely to get more than $1000 for it we have to import it first - don't think that will be a problem!), getting the watermaker going again (we 'pickled' it (added a chemical that stops things growing in the membranes) as the water here isn't clean enough to use it) and getting things like new flares and a new EPIRB. (As is the way with the world these days, replacing our existing EPIRB's battery will cost more than a new EPIRB.) We've gone well over budget during this bout of maintenance, but even so a new pair of waterproof binoculars would be nice. Our existing, fairly new, nitrogen filled, marine waterproof binoculars completely steam up whenever it rains! And what's more, at night they turn red lights into white lights - it took us a while to realise what was going on and it's quite confusing when trying to monitor shipping at night. Our current plan is now to carry on working here and try and finish things off so we can pack all our tools away, reorganise the stowage in the boat, get ready to go and hopefully concentrate on sailing. It won't happen like that, but hopefully all the big jobs will be out of the way, at least until our next major maintenance stop.
John Ward, the OCC (Ocean Cruising Club) Port Officer for Gosford (just north of Pittwater) arrived
on a buoy next to us to say hello and provide information on the surrounding area. It was John who
made us aware that the Beashel's yard existed.
Geoff and Judy on Ka Mate (a Warrior 40) come past to pick us up from
our mooring for a lunch at Patonga (5 miles north up the Pittwater inlet)
with Jake, Jackie and Bill.
Liz and a new friend, Judy's Maltese, Rosie.
Rosie having taken over the prime seat on Ka Mate.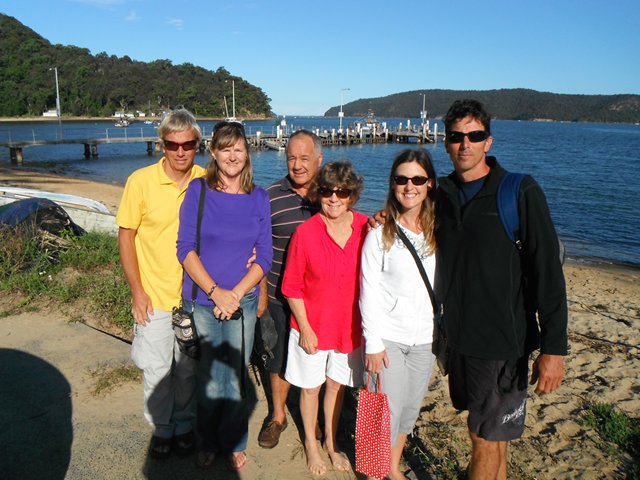 The lunch party - us, Geoff and Judy, and Jake and Jackie. Bill took the photo. We hadn't seen
Jake, Jackie and Bill since Sydney, back in January. They stopped by on their way north. We
hope to follow in their wake to Darwin. They have to be there earlier to take part in the
Indonesian Rally, something we've never been keen to do (no wind to sail so lots of motoring,
too hot and humid - we don't want a green (mildew) boat, too many people and too much corruption,
but others are keen to go to see the sights and it's supposed to be cheap to live!).
Aurora B in the slip cradle, ready to be hauled out.
Beashel's yard on the edge of the bush - the yard's been there many years!
Out she comes! The cradle is hauled out of the water by a winch in the building. With this there's no
messing around with letting off the backstay that we have to do when being lifted by a crane. And
there's no props to get in the way when antifouling. It's the first time we've come out on a
slip and liked it. (Apart from the pressure to go back in on schedule - this is their main slipway
and other boats were scheduled to come out as soon as we were back in.)
A gentle pressure wash to give it a good clean, but not take too much off of what's left of the
antifouling.
She didn't look too bad once clean and the antifouling was all intact, but when close up it was clear
there wasn't much thickness left. A rub down with wet scotchbrite along the waterline followed
to provide a good key for the new coat.
Elvina Bay - Beashel's yard is in Elvina Bay, a lovely little bay tucked away on the south west
corner of the Pittwater inlet. The little hut is the ferry stop. It has a flag that you raise to let
the ferry know that someone wants to be picked up. There is no road access here. The yard and
houses around the bay rely on the Ferry and their dinghies to get to and from civilization!
Walking the plank(s)! The staging was excellent and made it much easier
to get to our lines around the waterline. It's very fiddly and requires a
lot of masking tape to get a good result.
Painting our white line in antifouling. Last year we put on 5 coats using a roller, but it still got
worn back to the primer. International (the paint supplier) recommended brushing it on this time
to get thicker coats. Had to be very careful not to drip white all over our nice new blue!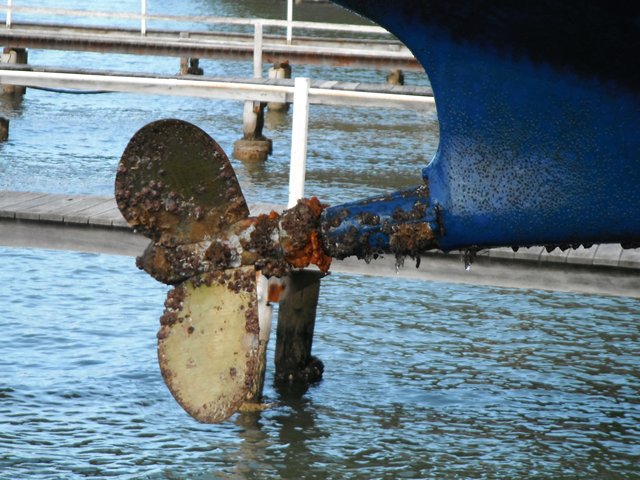 The prop before cleaning. The Propspeed on it had done a great job at stopping barnacles up until
January (so 12 months) when I last went under to clean the hull, but since then the barnacles had
started to take hold.
That's a lot better! Propspeed is a gooey substance that doesn't stop barnacles and other growth,
but makes it difficult for them to get a proper foothold so when the propeller turns at speed any
growth comes off. It's expensive, but on the evidence of last year it does work.
All painted and ready to go. The white line had 4 brushed coats of antifouling and we hope that
will last.
We lived on the boat throughout our stay in the yard and it's just possible to see the biggest pair of
step ladders that we've ever seen. But they made it a lot safer getting on and off. It's also just
possible to see that under the white (Trilux) antifouling line, that we have 12 inches or so of hard
scrubbable (Ultra) antifouling and the rest is strong ablative (Micron 66) antifouling. It takes a
lot of effort, but we like the end result.
For those who don't know what a Dorade is. The old top compared with the complete new unit.
It's aim is to allow air, but not water, to get down below, inside the boat. The following pictures show
what's underneath it.
Firstly, a big hole right through the deck! (Blue masking tape is on the underside to stop bits
dropping onto the bunk below.
Then there's the ventilation cap with a fly screen to stop the mozzies.
Then a cap that can be wound up to allow air to get underneath it or wound down when in big
seas to close it off and stop water getting in
And finally the cover box at the bottom and the cowl on the top.
Incidentally, the different size boxes and cowls are called Tom and
Jerry - someone at Vetus was clearly deeply influenced during their
childhood!
The new vent that we fitted. It's a similar principle to the dorade, but different design.
---