Blog 12. March 30. Boat Lagoon, Phuket. 07.57.70N 098.23.16E

Alcedo
David Batten
Mon 6 Apr 2020 07:27
Our plans to have Alcedo lifted on the 26 March and flying home on the 1 April suffered a bit of a set back when Etihad emailed to say our flight had been cancelled as Abu Dhabi was no longer prepared to allow transit passengers. So much time was spent on re-organising a flight, preferably direct from Thailand to London and we eventually found tickets on a Thai Air flight out of Bangkok on Saturday 28 March at 00.15hrs. In our panic to ensure we got a suitable flight from Phuket to Bangkok, we failed to notice that it was to a different airport in Bangkok, about 30 minutes drive away from Bangkok International, so those tickets got consigned to the bin and a more suitable flight was booked. Phew.

Then we decided we would be happier with an extra day to pack up the boat and the Boat Lagoon agreed to lift out on the 25th, so we left Chalong a day earlier than planned and spent a night anchored off Ko Rang Yai. Lovely while the wind was in the north east, not quite so lovely when it was south westerly, but as usual, it died during the night.



The beach on the west side of Ko Rang Yai. Very pretty place, but visited by a surprising number of tourist motor boats and we were much too pre-occupied with starting lay-up jobs to go ashore

Up at 06.30 and ready to up anchor at 08.30 to motor the 2.5 miles to the channel at Ao Tha Rua to meet the pilot boat that would lead us down the channel to the marina. Unfortunately, with only 2 of us on board and all attention being directed to the pilot boat, channel posts and depth, we have no photographs of this interesting and somewhat exciting experience, with keel up and a rather fast pilot. It was made even more interesting by meeting a barge at the shallowest part of the channel, with least depth recorded as 1.8m, our draft being 1.5m with keel up. Then there was a bit of a discussion about fuel, as they seemed to think we would want to do that when we left the marina, whereas we like to leave the tanks full. As it happened, the very smart motor boat they were launching required longer in the dock than planned and we remained on the fuel dock until after lunch.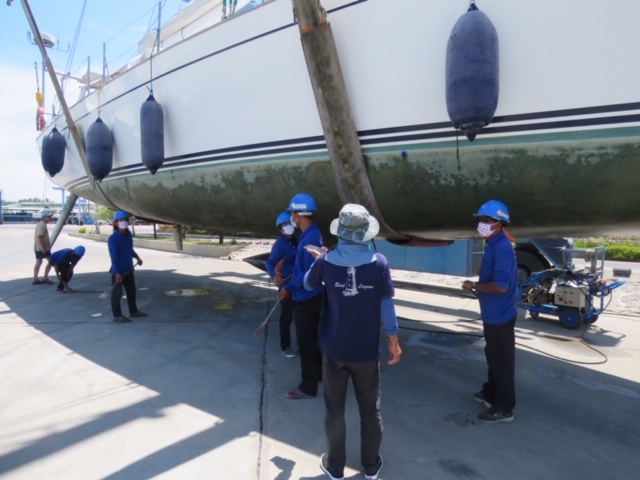 In the travel hoist at last with a team of masked boat yard workers with scrapers. Nearly all the Thais wore masks everywhere we went in Thailand, in spite of not being in lock down



Alcedo on her way to being chocked off through the huge yard at Boat Lagoon

So now Alcedo is safely cradled behind the main parking area for boats, near what looks like a functions marquee, deserted of course and we spent 2 hectic days doing all the lay-up tasks that we would really like to spend a week on. Thailand is gradually closing down, with most non residents trying to leave asap, but luckily for us, there are still some sailors left who will keep an eye on her.

We are back in England, after an interesting flight back, with Phuket and Bangkok airports fully functional, but Heathrow like a film set in a disaster movie where the population has been wiped out.



Heathrow airport on Saturday morning, approx 07.00 hrs 28 March 2020



Is anybody there?

We had our temperatures taken before we were allowed to enter Phuket airport and after landing at Heathrow before we were allowed off the plane. We wore masks and were asked to use alcohol gel regularly during the flight to Heathrow. The plane was nearly full of returning Brits, not all of them apparently healthy, but so far so good and we are very grateful to be at home during lockdown. Tropical islands in a foreign country might be lovely for a month or so, but being in lockdown in a country whose Minister of Health is accusing foreigners who don't wear masks of spreading the virus does not have much appeal. We hope Alcedo will be safe until we are allowed to return and all bets are off as to when that might be.

Alcedo
Sent from my iPad
---