Blog 9. Monday 13 May. Noumea 22.16.61S 166.26.39E

Alcedo
David Batten
Mon 13 May 2019 09:18
So since the last blog, change of plan and one more day in Noumea and one more day of internet, so quick catch up.



The anchorage outside of the marina.

Yesterday afternoon was disrupted in a very pleasant way by a knock on the hull and a voice announcing, "It's Marcus Cave, as (from the expression on your faces) you clearly don't recognise me". We did know Marcus was in New Caledonia but he had been called out unexpectedly to an emergency early this morning, so we were not sure we would be able to meet up. Marcus, who was a page boy at our wedding and last sailed with us nearly 30 years ago, had changed somewhat from a nearly blond teenager to a dark haired, mature father of three, but shame on us for not recognising him. Thanks to Marcus, we have learned a great deal more about New Caledonia, mining, nickel, ship wrecks and nice places to go tomorrow as well as discovering much more about his work here and in other parts of the world. We had a very pleasant supper on the boat with him and wished him a good journey back to the UK on Tuesday for a few days of well earned leave.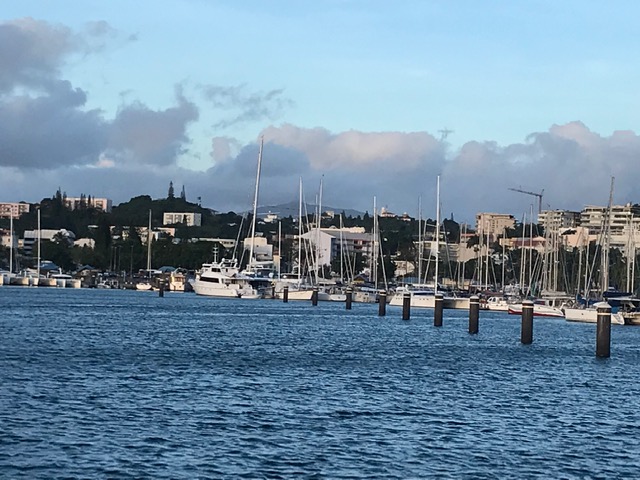 The marina showing pontoon A and you can just see Alcedo's stern

So this morning we have been shopping AGAIN for wine and the few things we forgot yesterday, with the Supermarket working normally but the market not functioning. We decided to spend an extra day doing the jobs we should have done yesterday, as well as filling in the Australian Immigration paperwork, a Herculean task as Jane has discovered. We have also been working on reconciling the kitty, with complicated conversions involving New Zealand dollars, Central Pacific Francs and GB pounds.

It is now blowing quite hard again, but the sky is bright blue and it has been a lovely day, completed by a viewing of some very colourful Coconut Lorikeets in the trees in the car park by the marine. Photograph does not do it justice, taken as it was getting dark and with iPhone!




From tomorrow we are likely to be out of internet coverage for several days.

Alcedo
Sent from my iPad
---