Tyrrel Bay, Saturday 5/04/2014. 12.27.50N 61.29.09.W

Alcedo
David Batten
Sun 20 Apr 2014 20:38
Friday, 04/04/2014. Whole crew up in good time for breakfast and preparations for leaving Tobago Cays. With the wind already increasing and more yachts in the Cays, we could leave with no regrets after sending an email to wish the Skipper's Sister-in-Law, Jane, who did the Atlantic crossing with us, a Happy Birthday. Leaving the Cays by the South Exit, we motor sailed to Clifton and anchored off the town in plenty of room. Quite rough by this time, so dinghy ride was wet and the Skipper did well with surfing through the narrow gap into the dinghy dock off the Bouganvilla. We had to go to the airport to clear out as the customs office was temporarily closed, but enjoyed watching the airport staff spring into action when a small inter island plane landed. After this, it was a successful provisioning shop from the market, including avocados, a great favourite with everyone and for new shorts and sun visor for Anthony. There was a less successful shop for fish as the Skipper's wife did not think the Tuny or Caripe fish we were offered was anything like the weight claimed by the seller, or particularly fresh.
Shopping at the market in the square in Clifton, and trying to make sure everything on the list was purchased, including the avocados!
Then it was off to Palm Island for a quick swim and lunch and successful negotiation with "John" for a really fresh fish supper before heading for Tyrrel Bay again, as there was too much wind and sea to really enjoy Sandy Island.
Palm Island, an idyllic spot for lunch on a calm day and supper, very good red snapper, bought from and filleted by John.
After a good sail, we arrived in Tyrrel at about 18.00 hours and were very surprised and concerned to see Oriole, RCC anchored in the spot by the ferry terminal that we had used before, not because she was there but because she definitely had a shorter mast than when last seen. The story, as we discovered later was that one of the ferries got stuck in reverse while manoeuvring to or from the quay and just caught her backstay with the ramp. She was very nearly rolled over, but thanks to quick thinking by her Skipper who did his best to drive her forward out of the way, the main damage was a broken mast at the top spreaders. She was already ship shape with the top section of the mast stowed and the rigging sorted by the time we saw her and her crew were showing remarkable little sign of the trauma this incident must have caused them. We were very impressed. While our skipper was commiserating with the Orioles, we negotiated with Simon's cousin, Thomas, for a last lobster supper, so Anthony could practice his newly acquired knowledge on how to kill them quickly. We could not manage less than $20EC per pound, even with Tessa and Venetia's determined negotiations and a grumpy Thomas was asked to bring them in the morning and we settled down to cook fresh red snapper, which was delicious.
Saturday, 5/4/2014. Another brochure day. We sent Anthony off to walk the Island as he needs more exercise than the rest of us to keep him happy, while we bought crayfish off Thomas as promised and then set off to Paradise Beach for lunch and swimming and some retail at Fidels. Everyone had a great day and here are a few of the photographs taken as reminders.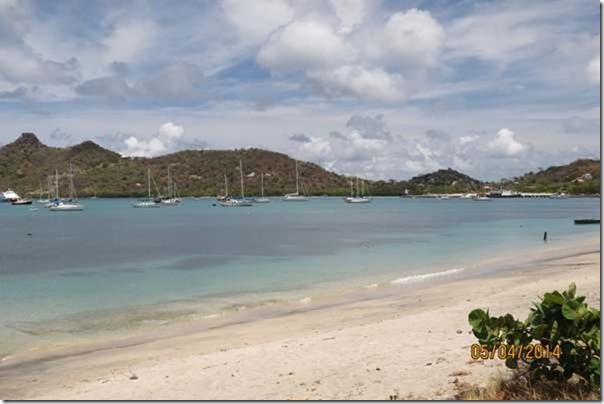 The beach at Tyrrel Bay and Off the Hook, a great lunch spot at Paradise Bay.
The Skipper enjoying a beer at Off The Hook and Venetia walking down the beach, aptly named Paradise Beach.
Two of Anthony's great bird photographs, the left being a Greater Yellow Legs (not in the West Indies Bird Book but in the Trinidad one) and a Mangrove Cuckoo.
Sadly for the crayfish, this lovely day was completed by an humane dispatch and excellent supper. Tomorrow we will be heading back to Granada ready to welcome Jane back on board and to say goodbye to the current guests.
Alcedo
---